Stefano Leone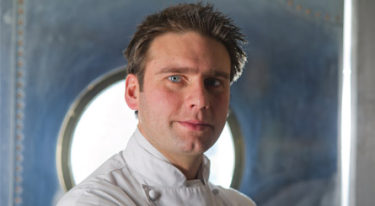 How long have you been at the restaurant?
I have been working at Royal Exchange since August 2014 but with D&D since October 2006.
Which was the first restaurant you worked in?
Aldrovandi Palace Hotel (luxury hotel in Rome).
What was the last London restaurant you went to, apart from your own?
Dinner at Mandarin Oriental.
What or who has been the biggest influence on the way you cook and why?
I get inspiration from everything around me, books, competitors, internet. Cooking is similar to art; it is forever evolving, as you go through different stages of your life and experience new things your ingredients, techniques and trends change and develop. One huge influence was Hong Kong, I lived there for 3 years (Asia has a very different approach to food and flavours than we have in Europe).
What is your personal signature dish?
Fried Halibut in basil leave, sautéed courgettes, shallot, thyme, black squid ink risotto, almond cream I created this dish during a very hot summer in Sardinia. I was helping a friend, Umberto, set up his restaurant. However, the place is so far from town and shops, that when ingredients run out you have to work with what you've got. In this case, there were nothing in the kitchen but a group of hungry diners that needed feeding. I found some halibut, & a couple of courgettes and a bit of fresh basil picked from the garden, there was also some nougat in the cupboard so removed the almonds and hey presto! The finished product was sensational and has been a signature everywhere I have worked. in. The black squid ink risotto is also up there and I added this later on when I cooked it for "Bocuse D'Or" competition.
Which other chef(s) do you most admire?
Anyone who is able to cook. My wife in our kitchen at home! Uwe Opocensky of Mandarin Oriental Hong Kong. Tomas Keller. The huge Mr. Alain Ducasse. London is full of incredible chefs; I couldn't possibly name them all.
What's the best part of your job?
How unpredictable it can be, you need to prepare for the unexpected and be ready for battle everyday.
And the worst?
That it is unpredictable. It is not a job for the faint hearted, as soon you lose your focus or turn your back on things, it can get out of control within seconds.
What would your last meal be?
800 g rib-eye steak from "Chianina" beef breed, extra virgin olive oil & traditional balsamic tomato salad; warm sourdough bread; and a bottle of Barbaresco Gaja 2002.
Do you have a chef's shortcut that you can share with us?
Good products make great dishes.