North East England
Often described as a hidden gem, this region boasts South Yorkshire, West Yorkshire, North Yorkshire and comprises the beautifully undulating Yorkshire Dales and North Moors National Park as well as bustling cities such as Leeds, York, Scarborough and the counties of Northumberland, County Durham, Tyne and Wear.
With nearly half a million international visitors a year coming to the area, highlights include the many pretty villages of the Pennines, The Angel of The North, York's famous Roman cathedral and city walls, Durham's Norman cathedral – a world heritage site. There's also Leeds' stunning Victorian architecture and vibrant city regeneration, Newcastle upon Tyne's fabulous tourist activities and visitor attractions such as the Millennium Bridge as well as a plentiful restaurant scene and nightlife in which to host private events, while towns like Whitby showcase the region's bountiful fishing heritage. There's even surfing along many of the coastal areas and the much-loved Magpies football team aka Newcastle United F.C. and Sunderland A.F.C.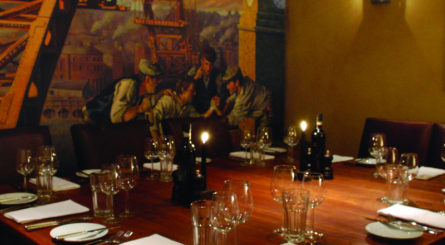 Hotel du Vin & Bistro – Newcastle
£19+ per person
The two private dining rooms at Hotel du Vin & Bistro in Newcastle upon Tyne can respectively seat 12 and 22 dining guests.
»
Malmaison – Newcastle
£35+ per person
The private dining rooms in Newcastle's Quayside are, depending on which room you choose, each able to seat between 10 to 30 seated guests.
»