Newcastle
Made famous most recently by TV personalities Ant and Dec and the series Geordie Shore casting a fly on the wall look at Newcastle's legendary nightlife, the city is well known for its party atmosphere. Situated on the River Tyne, it's also a university town and, while historically it was a major shipping and manufacturing hub, it's now been given a new lease of life as a centre for business, art and science in the North East.
Tourist attractions within the city include the castle and cathedral, the Tyne Bridge, Discovery Museum and St James' Park – the famous football stadium, while just outside there's the iconic Angel of the North as well as Hadrian's Wall. Boasting its own international airport as well as a city metro system, trains to London take around 3 hours or Edinburgh just one and a half. It's an ideal city for hosting a wide range of events, from conferences to party weekends – and there are plenty of great hotels, restaurants and bars with private dining facilities to explore.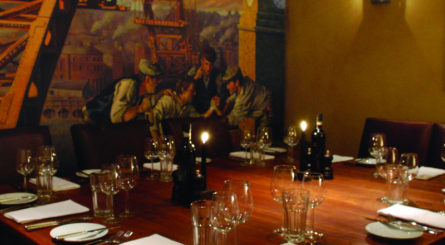 Hotel du Vin & Bistro – Newcastle
£19+ per person
The two private dining rooms at Hotel du Vin & Bistro in Newcastle upon Tyne can respectively seat 12 and 22 dining guests.
»
Malmaison – Newcastle
£35+ per person
The private dining rooms in Newcastle's Quayside are, depending on which room you choose, each able to seat between 10 to 30 seated guests.
»