Adam Potten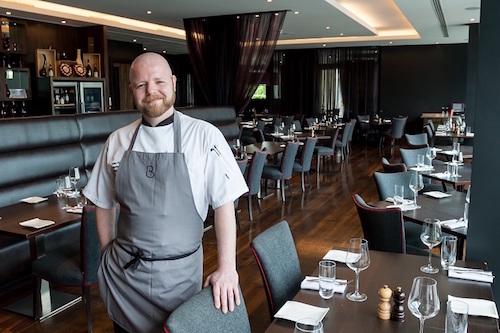 How long have you been at the restaurant?
This is my second time working here at Brooklands. I left here as Senior Sous Chef four years ago and then once the opportunity arose for me to return as Executive Chef I jumped at the chance!
Which was the first restaurant you worked in?
My first job was when I was 16 years old and I had a part-time commis chef position at a local family run restaurant called The Old Watermill. It was a 1 rosette standard of dining with a small team and I learned so much there in a short space of time. I was hooked straight away and knew kitchens were where I wanted to spend my life.
What was the last London restaurant you went to, apart from your own?
I dine in London quite often it is one of my most favourite places on earth. I was in Borough Market sampling bits and bobs from lots of different stalls recently and then decided to have lunch in Roast over looking the market. Roast beef and Bourbon! What's not to love!
What or who has been the biggest influence on the way you cook and why?
From a young age when I first got into cooking and the appeal of the chefs life took hold of me; Marco Pierre White was my hero. I loved the way he was the ground breaker. I am influenced by current trends and the foods that make me happy to create & that will bring people together; the kind of food that can take your breath away.
What is your personal signature dish?
I don't particularly have a signature dish; however my friends would say i'm quite a "beefy" chef. I am a massive fan of all things bovine and usually steer to that when choosing what to eat or cook!
Which other chef's do you most admire?
I will always have admiration for Gordon Ramsay, not just for his great skills as a chef but also as a businessman. The way he has created the brand of GRH is something to admire.
What's the best part of your job?
The thing I love most about my job is when you see someone try something you have created, they close their eyes and utter "wow". Seeing all different emotions from food is fascinating and the way we, as chefs, have the ability to make someone smile with just a spoonful.
And the worst?
Being a chef is unsociable with long but it is the life we choose. The sacrifices that go into succeeding a chef; missing out on your niece's birthday party or not going to see that particular band with you friends is a hard thing to stomach. But you meet so many like minded people in hotels that go through the same thing and you make friends for life which can make up for some of the other losses. My best friends are all in the industry and we all support each other with the sacrifices that are needed to keep pushing.
What would your last meal be?
My mum's roast! All the family round the table, roasted potatoes, all the vegetables, good wine and good chat. My Yorkshire puddings though because I make the best in my family!
Do you have a chef's shortcut that you can share with us?
For a handy quick way to make good roast potatoes with lots of flavour. Everytime you do a roast dinner pour any kind of fats from your roasting meats into a container and set it in the fridge that way you will have some good tasting fat to roast your potatoes in. You can also pour it into ice cubes trays and freeze it if you don't do roasts that often but still like the idea.