Ian Howard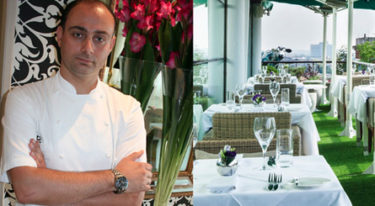 How long have you been at the restaurant?
2 years
Which was the first restaurant you worked in?
Belvedere Restaurant in Holland Park was my first stand alone restaurant but previously, hotel restaurants.
What was the last London restaurant you went to, apart from your own?
The Ledbury
Which London restaurant is your favourite and why?
At the moment, Trinity in Clapham. It has a very seasonal menu which changes a lot and a very comfortable dining room. The place is serious about food.
What or who has been the biggest influence on the way you cook and why?
Marco Pierre White, he was at Harveys in Wandsworth when I first started cooking and was so inspirational, professional, and driven. He really inspired me to work hard in my career.
What is your personal signature dish?
Confit Pork Belly Haricot beans, pear puree, sauteacute;ed king oyster mushroom, smoked morteau sausage, truffle vinaigrette.
Which other chef(s) do you most admire?
Gary Rhodes and Wayne Tapsfield (Garys Executive Chef)
What's the best part of your job?
Using seasonal produce and seeing the menu change with the seasons.
And the worst?
Having to cook a piece of meat or fish well done because the customer requires it or they want the food very hot.
What would your last meal be?
A well hung and mature pheasant, roasted breasts and confit legs, with a traditional garnish, bacon , bread sauce, game chips, watercress, game farce on a crouton and jus, with a perfect potato fondant.
Do you have a chef's shortcut that you can share with us?
For a fondant potato, instead of cooking in lots of butter and stock, cook it in duck, nice and slowly till tender and then caramelise with a chicken bouillon water and butter, and you will see the bouillon caramelises beautifully golden on the top of the potato.