Hameed Farook – Head Chef, Andaz.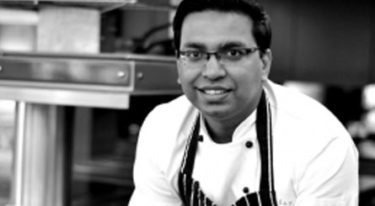 How long have you been at the restaurant?
I've been in the property for over 3 years Leading different kitchens, now In charge of 1901 since June 2013.
Which was the first restaurant you worked in?
Tangarine at Angsana Oasis Spa, Bangalore.
What was the last London restaurant you went to, apart from your own?
Grain Store.
What or who has been the biggest influence on the way you cook and why?
The biggest influence I had is the love I had for the ingredients & the love for chemistry, when I realised what great art we can get if we combine these two in the right way.
What is your personal signature dish?
To be frank I really don't have one, I like to experiment different flavours and work with seasonal ingredients which keeps me on my toes every time.
Which other chef(s) do you most admire?
Thats a tough one to answer, I think each chef is unique and best in his or her own ways. I believe try to learn from every one I meet which, in-turn, would make me a better person . But to mention few I must say Chef Roger Marti & Chef Matthew Cropp.
What's the best part of your job?
To know that I am a ladder to someone's success.
And the worst?
To deal with certain people who pretend to know food.
What would your last meal be?
My Mum's Chala Meen Curry (Sardine fish curry), Masala Fried King Fish, Tamarind Rasam, Baby Bitter Gourd Poriyal and Fluffy Rice, on a banana leaf.
Do you have a chef's shortcut that you can share with us?
There are two things that a chef often can use in the kitchen. One is his brain and the other is his legs. If you still want to feel OK after a 14 hour shift I suggest using the brains more.