David Stafford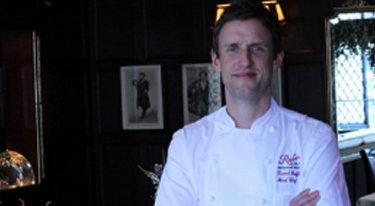 How long have you been at the restaurant?
18 months.
Which was the first restaurant you worked in?
'Shanks' in Clandeboye, Northern Ireland.
What was the last London restaurant you went to, apart from your own?
Zedel.
What or who has been the biggest influence on the way you cook and why?
I learned so much from my first mentor, Robbie Miller, who taught me about the all the basic skills' I needed and about the importance of discipline in kitchen life; and then the River Café where the ethos and the food encapsulate for me what makes a great restaurant.
What is your personal signature dish?
Seared fillet of hare, semolina gnocchi and chestnuts which is really popular in the game season.
Which other chef(s) do you most admire?
Chefs like Ruth from the River Café and Rowley from Café Anglais who still work in the kitchen day in day out – they don't have to but they do so because they are passionate about what they do.
What's the best part of your job?
I love good food and I love cooking and I get to enjoy both on a daily basis.
And the worst?
The way some young people coming into the business don't appreciate the dedication and hard graft it takes to progress through the ranks – you are not going to make sous chef after just 6 months in the kitchen!
What would your last meal be?
A nice bowl of pasta with white truffles and a decent glass of red wine (or several?) to go with it.
Do you have a chef's shortcut that you can share with us?
The word shortcut tends to have negative connotations within a kitchen environment. I think, with experience, you learn how to work more efficiently, maximising what you can achieve in a set period. Planning and organisation is the best short cut!