Atul Kochhar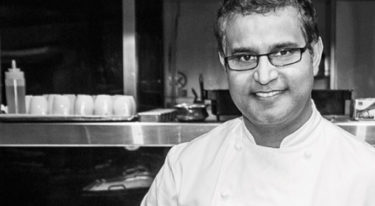 How long have you been at the restaurant?
Since I opened Benares in May 2003.
Which was the first restaurant you worked in?
I started my career at the Oberoi Group of hotels in Delhi, India. This was my first venture into the restaurant and hotel industry and is also the place where I gained a lot of experience with a team and really found my way as a Chef.
What was the last London restaurant you went to, apart from your own?
The last restaurant I went to in London was Dinner by Heston Blumenthal. My guests and I managed to sit in the Chef's Table and it was an extraordinary experience. I had Heston's signature Meat Fruit and it was a dish that really stood out.
What or who has been the biggest influence on the way you cook and why?
My father was my main source of inspiration, he was a caterer and wanted me to be a doctor but, to his reluctance, I followed his interest in food and cooking. He taught me everything from using seasonal ingredients to which spices work best together, and classic cooking techniques that I still use to this day.
What is your personal signature dish?
The Karara Kekda Aur Salad is one of my personal favourite signature dishes and starters at Benares. This dish represents my personal ethos and what I envision as my cooking style being that it is traditionally British but it is inspired by my Indian heritage. Using British crab seasoned with Indian spices and then paired with a garnish that is seasonal.
Which other chef's do you most admire?
There are many chefs that I admire and many of them are my peers. Specifically, I really admire the Roux brothers as they have had a significant influence within the British restaurant industry. I also admire that they are able to pass down their talent throughout several generations of their family.
What's the best part of your job?
The best part about being a chef is the people that you get to work and meet with. We have a great team at Benares and I look to other Chef's in our kitchen to share their knowledge in order to make the team stronger. Another bonus about being a chef is being able to travel! I travel regularly to India where I can get a fresh perspective and inspiration which I pass on to the team and include in the menu.
And the worst?
On the other hand travel can be a negative part to the job. Although I really enjoy it, it detracts from your family life. Ideally I would like to take my family on every trip!
What would your last meal be?
At the moment I'm really inspired by Thai food, so I think if I had to choose a last meal it would be a simple Thai dish with a good cup of tea.
Do you have a chef's shortcut that you can share with us?
I don't really believe shortcuts lead to great dishes, but there are some very useful techniques that you pick up as a chef. For example, if you ever over salt a soup or a sauce, while cooking place a golf ball size of plain dough at the base of the pot and simmer for 10-15 minutes. This will reduce the saltiness – just make sure to remove and discard the dough when done.