The City
Private dining rooms in The City of London provide a discrete environment for business meetings as well as corporate lunches & dinners.
The City of London, also traditionally known as The Square Mile, is situated between Shoreditch, Holborn and Clerkenwell to the north, Hackney and Whitechapel to the east with the Thames to its south. One of the principal centres of global commerce, The City is home to many of the world's leading financial, banking and insurance companies as well as The Bank Of England and The Stock Exchange.
The City has an enticing mix of small pubs and upmarket bars together with an excellent selection of restaurants with private dining rooms. The City has many fine e landmarks including Leadenhall Market, The Monument and the The Royal Exchange. The City of London is well served with mainline stations such as Liverpool Street on Bishopsgate, Fenchurch Street, near The Tower Of London and Cannon Street as well as underground stations such as Liverpool Street, Bank, Moorgate and Tower Hill.
If you are looking for for a private dining room in The City, at www.privatediningrooms.co.uk we offer a great range of dining rooms available to hire for private lunches and dinner events.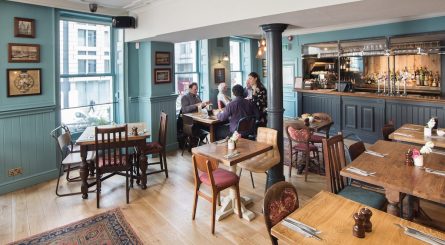 The Albion – Blackfriars
£35+ per person
The Upstairs Room at The Albion pub in Blackfriars seats up to 40 guests for private dining events and can also accommodate up to 60 guests for standing drinks receptions.
»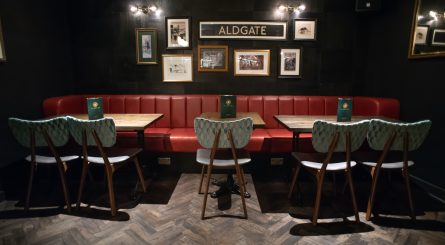 The Trinity Bell
£35+ per person
The Trinity Bell in The City has two private dining rooms. The Bell Room accommodates up to 20 seated guests and The Gin Bar accommodates up to 50 seated guests or up to 80 for private drinks receptions. Larger spaces accommodate events of up to 150 seated (310 standing) guests.
»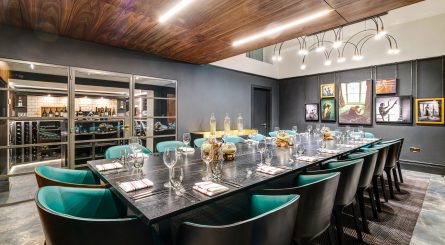 The Amicable Society of Lazy Ballerinas
£45+ per person
The two private dining rooms at The Amicable Society of Lazy Ballerinas in Fleet Street, London EC4 can seat up to 18 guests. The venue also provides the ideal space for standing drinks receptions of up to 80 guests.
»