Private dining venues at The Barbican
Private dining rooms and pub function rooms in The Barbican area of the City of London provide the ideal event spaces for group business breakfast meetings, lunches and dinners.
The Barbican complex is located in the north west of The City, bordered by Farringdon to the west, Moorgate to the east and St. Paul's to the south with Islington on its northern edge.
Constructed over a ten year period between the mid-1960's and 70s on a 35 acre part of The City which had been severely damaged by bombing during World War II, The Barbican is a mainly residential district owned and operated by The City Of London Corporation. Its iconic Grade II listed 70's architecture – including the three distinctive towers which form a prominent part of the London skyline – makes it one of the most unique parts of the City to visit.
The Barbican is a district of cultural significance being home to The London Symphony Orchestra & the BBC Symphony Orchestra which are housed in the Barbican Centre concert hall.
The district has a good selection of restaurants with private dining rooms and traditional London pubs and vaults with function rooms for group dining events including corporate Christmas parties.
The Barbican is easily accessible by London Underground via Barbican tube station (Circle & Metropolitan lines) with other nearby underground stations at St. Paul's (Central Line) and Farringdon (Circle & Metropolitan lines). Liverpool Street main rail terminus is a ten minute walk away.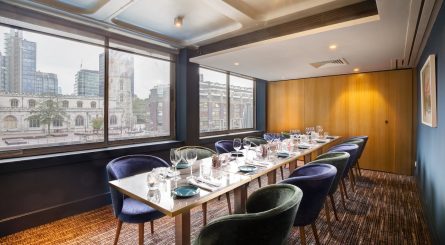 Barbican Brasserie by Searcys
£50+ per person
The private dining room at Barbican Brasserie by Searcys is within easy walking distance of Barbican and Moorgate London Underground tube stations and seats up to 16 guests for smaller private dining events in the City of London.
»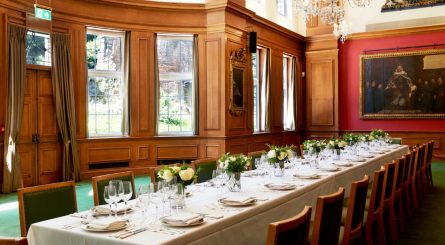 Barber-Surgeons' Hall
£120+ per person
Barber-Surgeons' Hall in the Barbican district of the City of London is an historic City Livery Company with a selection of private event rooms seating 12 – 24 guests which are also available for drinks receptions of 30 – 100 standing guests. The venue's Great Hall can accommodate larger events of up to 120 seated (250 standing) guests.
»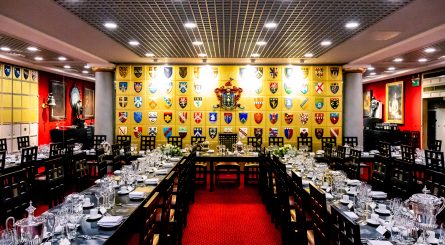 Founders' Hall
£75+ per person
Private dining rooms at Founders' Hall – home to The Worshipful Company of Founders, close to Barbican tube station in the City of London – can accommodate 20 – 75 seated guests or up to 60 – 120 guests for standing drinks receptions.
»