Simon Wadham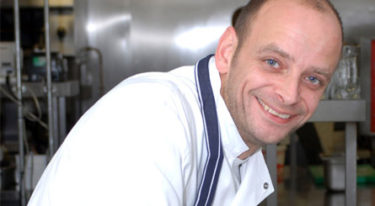 How long have you been at the restaurant?
Since 2006.
Which was the first restaurant you worked in?
The first restaurant I worked at in London was Joe's Café on Draycott Avenue. I was in the army before that.
What was the last London restaurant you went to, apart from your own?
It was a gastropub & The Mall Tavern in Notting Hill.
Which London restaurant is your favourite and why?
The best thing about living and working in London is the range of restaurants you've got to choose from & I wouldn't be able to choose just one.
What or who has been the biggest influence on the way you cook and why?
Oliver Peyton & I worked for him for 10 years. He imprinted a template in my mind of how things should be. Not just about food, but about business, attitude and how to get things done.
What is your personal signature dish?
Lyme Bay scallops with Peter Gott's black pudding and bacon.
Which other chef(s) do you most admire?
Jamie Oliver, for what he's put back into the industry.
What's the best part of your job?
What's very satisfying is over a period of years, giving people the education and skills they need to become a decent and strong chef on their own two feet.
And the worst?
Paperwork!
What would your last meal be?
Pan-fried foie gras with toasted brioche and raspberry dressing, followed by native lobster with wild garlic and lemon butter, new minted potatoes, and for desert, my Gran's sherry trifle.
Do you have a chef's shortcut that you can share with us?
Don't take shortcuts & that's my shortcut. The best results come from doing things properly.