Nathan Outlaw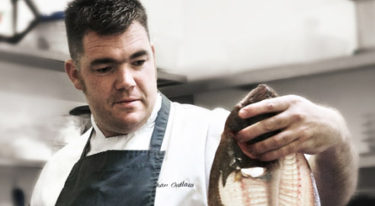 How long have you been at the restaurant?
Restaurant Nathan Outlaw originally opened in November 2007 in Fowey and relocated to St Enodoc Hotel, Rock in February 2010. Outlaw's Seafood & Grill, Rock opened in May 2009. So it depends which one you're after!
Which was the first restaurant you worked in?
My first job on leaving college was at The Intercontinental, Hyde Park Corner under the late Peter Kromberg. As a young chef it was a very steep learning curve and the discipline and expectations were harsh but it set me up for my career.
What was the last London restaurant you went to, apart from your own?
Bubbledogs in Charlotte Street, London
What or who has been the biggest influence on the way you cook and why?
The person would be Rick Stein. He gave me my break, encouraged me and taught me so much, particularly about fish and fish cookery. Even now, every time I talk to him I learn something new. The 'what' would be the produce I'm lucky enough to be able to work with. In Cornwall and the South West we are blessed with the best of everything – meat, fish, cheeses and vegetables. The variety and quality of what I am provided with excites me and makes me want to create fantastic dishes just to show it off.
What is your personal signature dish?
I don't have a 'signature dish'. I do have a signature style though; simple cooking which allows the true flavour of the ingredients to shine through.
Which other chef's do you most admire?
The list is a long one! For various reasons: Rick Stein, Tom Kerridge, Sat Bains, Simon Rogan, Mitch Tonks, Mark Hix, Michael Caines and my guys in my kitchens.
What's the best part of your job?
Cooking – I can't stay away from the stove. Even on holiday I ended up baking bread with a Bedouin cook on an open fire!
And the worst?
Paperwork – soooo boring!
What would your last meal be?
Toad in the Hole, mashed potatoes, buttered carrots and onion gravy followed by rhubarb trifle and all washed down with a glass of Ribena!
Do you have a chef's shortcut that you can share with us?
I don't do shortcuts. If a job's worth doing, it's worth doing properly! Good food can't be rushed.