Nathan Barnard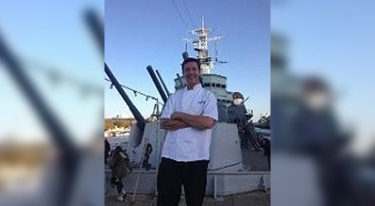 How long have you been at the venue?
I've been at HMS Belfast for since October 2014.
Which was the first restaurant you worked in?
My first job was in a fish restaurant called the Fishermans Wharf.
What was the last London restaurant you went to, apart from your own?
Orrey in Holborn.
What or who has been the biggest influence on the way you cook and why?
I just enjoy the cooking with the styles and flavours you can use.
What is your personal signature dish?
Roast pigeon, swede puree, curly kale, baby vegetables, fondant fingers, smoked jus.
Which other chef's do you most admire?
Heston Blumenthal.
What's the best part of your job?
The people you meet and work with.
And the worst?
Staff phoning in sick.
What would your last meal be?
A good old steak & kidney pudding.