James Durrant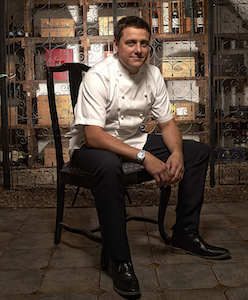 How long have you been at the restaurant?
Since June 2016.
Which was the first restaurant you worked in?
Pizza hut!! Then I started an apprenticeship at Carden Park Hotel in Chester.
What was the last London restaurant you went to, apart from your own?
I was the executive chef at Maze from 2005 when we opened to 2010 I then ran my own pub the Plough inn Longparish in January I returned to London and had a short stint at Bluebird in Chelsea.
What or who has been the biggest influence on the way you cook and why?
Both Gordon Ramsay and Jason Atherton have influenced the way I cook. Very disciplined and a great eye for detail.
What is your personal signature dish?
I guess it would have to be the Blitz Spirit that I won Great British Menu with in 2014, English Rose Veal Loin, Veal Blanquette, Beans And Toast.
Which other chef's) do you most admire?
Jason Atherton
What's the best part of your job?
Making guests happy.
And the worst?
Not seeing my wife and kids!
What would your last meal be?
Fish, Chips, Mushy Peas and a can of Dandelion and Burdock.
Do you have a chef's shortcut that you can share with us?
There is no such thing as a shortcut if you're doing it properly!