Herbert Berger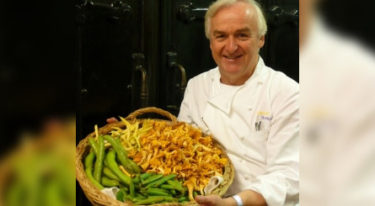 How long have you been at the restaurant?
I have been at Innholders Livery Hall since the beginning of September 2012 – it's my new venture and business.
Which was the first restaurant you worked in?
Grand Hotel Zell am See Austria in 1968.
What was the last London restaurant you went to, apart from your own?
Murano.
What or who has been the biggest influence on the way you cook and why?
Michel Bourdin at the Connaught 1981-5, A master of true classical and seasonal cooking.
What is your personal signature dish?
Many, but my favourites are; Smoked haddock risotto with soft quails eggs and English mustard sauce and Breast and ragout of blackleg chicken with veloute of morels and Vin Jaune, leeks and truffle oil mash.
Which other chef's) do you most admire?
There are many to list and I don't want to single out a few but I admire the chefs who run a professional and civilised kitchen, remain in the kitchen and cook and are dedicated to their guests and training of young chefs.
What's the best part of your job?
Cooking and serving great tasting real food, happy customers, working with a great team and training the next generation.
And the worst?
Lack of good and well trained staff and the poor conditions still associated with this fantastic and exciting industry.
What would your last meal be?
Traditional roast grouse with all the trimmings and a bottle of first growth vintage Claret.
Do you have a chef's shortcut that you can share with us?
Yes, No shortcuts – do it properly.