Harjeet Singh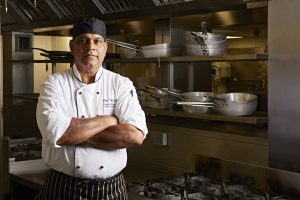 How long have you been at the restaurant?
Since 1999
Which was the first restaurant you worked in?
Bombay Palace, Kuala Lumpur between 1993 & 1999. Move to Bombay Palace, London in 1999
What was the last London restaurant you went to, apart from your own?
Have worked for Bombay Palace all my career
What or who has been the biggest influence on the way you cook and why?
Chef Madanlal Jaiswal, Master Chef at the Bukhara in Delhi (Voted as one of the Asia's 50 best restaurants.)
What is your personal signature dish?
Nalli Gosht – Lamb shank simmered in an aromatic gravy with a hint of saffron.
Which other chef's) do you most admire?
Chef Manjit Gill, Michel Roux
What's the best part of your job?
Constantly experimenting with new ingredients, styles and dishes from the vast repertoire of Indian cuisine
And the worst?
Having an unhappy customer – a rare occurrence but we are mere mortals after all.
What would your last meal be?
Throw caution and diet to the wind – Butter Chicken, garlic naan bread, lamb chops, grilled prawns and a glass or two of the best bubbly (Do not drink, but for the last meal – why not! – Meet my maker in high spirits)
Do you have a chef's shortcut that you can share with us?
When boiling rice squeeze some lemon juice to ensure that the grains remain separate even after cooking.