Gianluca Di Monaco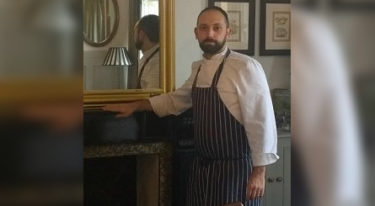 How long have you been at the restaurant?
I've been in the restaurant for 7 months.
Which was the first restaurant you worked in?
Harrods kitchen.
What was the last London restaurant you went to, apart from your own?
Shoreditch House.
What or who has been the biggest influence on the way you cook and why?
My greatest influence has been working with Pierre Koffman because he showed me the passion to use every simple ingredient.
What is your personal signature dish?
Terrine of calf's head with baby artichoke and truffle .
Which other chef(s) do you most admire?
Pierre Koffman, Jacque Rolancy and Heinz Beck.
What's the best part of your job?
The best part is that you are learning every day – you can't stop learning.
And the worst?
Paperwork!!
What would your last meal be?
Spaghetti tomato and basil.