Ed Cruz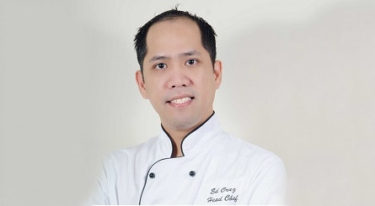 How long have you been at the venue?
I started working at the Churchill War Rooms in 2008.
Which was the first restaurant you worked in?
The first restaurant I worked in was The Hospital Club, it's a private members club located in Covent Garden, London.
What was the last London restaurant you went to, apart from your own?
The last restaurant I went to was the Smoked Rib House in High Street Kensington. I had a whole sticky barbeque rib with fat chips and coleslaw, with a milkshake and lots of soda.
What or who has been the biggest influence on the way you cook and why?
I can't say I have a specific person that has influenced my style of cooking, I'm a self-taught cook. I read a lot of books and watch TV programmes, constantly trying to search for new things in culinary. I also do a lot of research on the internet. The aim is to give myself a better understanding of the produce available and at the same time understanding the balance of flavour. It is from here that I get my inspiration to create new dishes.
What is your personal signature dish?
I don't have a signature dish, but if I can mention one it's the Venison Loin with Oxtail Gnocci which we currently have on our Autumn/Winter menu here at the Churchill War Rooms.
Which other chef's do you most admire?
Marco Pierre White, Tom Kerridge, Alain Roux, Jason Atherton and lastly a guy called Antonio Evangelio, he is not a chef but a great cook.
What's the best part of your job?
Cooking is the only job where you can be your own artist.
And the worst?
When you work in the kitchen long hours are always expected, including weekends and holidays.
What would your last meal be?
Big fat burger with double cheese, tomato, red onion and lettuce on brioche bun, with chips of course, and ketchup!!!