Chris King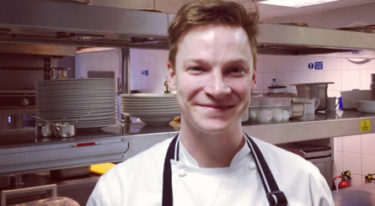 What was the last London restaurant you went to, apart from your own?
Brawn on Columbia Road.
Which London restaurant is your favourite and why?
Chez Bruce – always a great relaxed atmosphere, and I can never choose what to have on the menu. Except for dessert – I always have the crème brulee, it's the best there is.
What or who has been the biggest influence on the way you cook and why?
My family travelled a lot in Latin countries when I was growing up and there is a noticeable Spanish accent to my cooking.
What is your personal signature dish?
Salt-cod brandade with crisp Cornish squid, parsley and Espelette pepper.
Which other chef(s) do you most admire?
Thomas Keller.
What's the best part of your job?
Everyday is different.
And the worst?
Same as all chefs – the hours.
What would your last meal be?
A big bowl of pasta. Although saying that it's not what I would want to eat but the company that would count.