Alistair Dibbs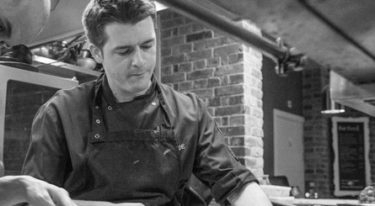 How long have you been at the restaurant?
I have been at Brigade for a month after it opened in September 2011, so just over a year and a half.
Which was the first restaurant you worked in?
The first restaurant that I worked in was just after leaving college, it was the 1 Michelin starred" hotel de la Plage" situated on a beach in Brittany, which was an amazing experience as all the produce was so fresh.
What was the last London restaurant you went to, apart from your own?
The last London restaurant was Arbutus in Soho, I have been going there for around 4 years as their food is great tasting and consistent.
What or who has been the biggest influence on the way you cook and why?
My Biggest influence is Max Fischer who I worked for at Fischers at Baslow Hall, a great chef and good mentor with a great work ethic.
What is your personal signature dish?
My signature dish is "Seared Cornish Scallops with Avocado Puree, Filo and Lime Ceviche Dressing, currently on the menu.
Which other chef(s) do you most admire?
Chefs that I admire are Shane Osborne of Pied a Terre and Rupert Rowley of Fischers, Baslow Hall in Derbyshire, both of which I worked for, and Eric Chavot who was at the Capital Hotel.
What's the best part of your job?
I enjoy the process of cooking and assembling a dish as much as tasting the final result.
And the worst?
The sometimes unsocial hours are the only drawback to my job.
What would your last meal be?
My Last meal would be Slow Roast Belly of Pork with Roast Potatoes, Vegetables and Yorkshire Pudding.
Do you have a chef's shortcut that you can share with us?
Chefs tip is: If you are putting together a dish with lots of elements, Make sure each element is tested and tasted before you assemble your dish. This eliminates any mistakes in advance, giving you time to correct them.