Oct 9, 2020
Private Dining Rooms Close To Popular Registry Offices In London For Intimate Wedding & Civil Partnership Receptions Of Up To 15 Guests
Under current UK government guidelines the number of guests allowed to attend seated wedding receptions is 15 guests.
This has dramatically affected the dream day of couples and created a massive backlog of demand for cancelled wedding events from 2020 which will hopefully be able to be held in 2021 as Coronavirus restrictions are eased.
An increasing number of couples are deciding to go ahead with their nuptials in the last three months of 2020, opting to have registry office weddings followed by small receptions for family and close friends with the option to have a larger more traditional wedding celebration reception at a later date in the next year or two.
London registry offices have found themselves in great demand with registry offices in areas such as Chelsea, Marylebone, Islington and Camden proving to be especially popular.
Hiring a private room in a restaurant for an intimate wedding reception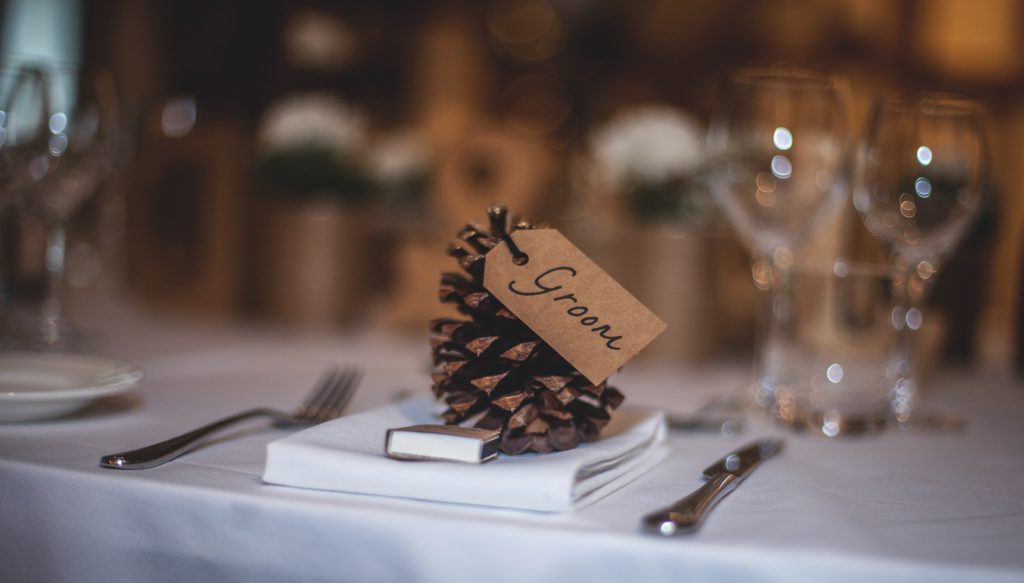 Restaurants with private dining rooms within reasonable distance of the most in-demand registry offices are ideally suited for post wedding lunch and dinner seated receptions of up to 15 guests with the rooms providing privacy away from guests dining in the main restaurant dining floor.
We take a look at some of the best private dining rooms at restaurants in London areas near the most sought after wedding registry offices.
Top restaurants with private rooms suitable for wedding receptions
Chelsea
Kensington and Chelsea Register Office is located at Chelsea Old Town Hall on Chelsea's trendy King's Road. This striking late-Victorian building has for many years been the chosen venue for celebrity weddings having hosted the weddings of cultural icons including Hollywood star Judy Garland, James Bond actor Pierce Brosnan and the late English football World Cup winning captain Bobby Moore.
Chelsea being Chelsea, there are a great selection of attractive venues within reasonable distance of Chelsea Old Town Hall.

Bluebird
Grade II listed Bluebird Chelsea is located on the Kings Road. Originally built in the 1920's as The Bluebird Company's garage and operated by the prestigious D & D London restaurant group, Bluebird is a Chelsea social institution with four beautifully well-appointed private dining rooms which provide the perfect environment for wedding and civil partnership celebration lunches & dinners of up to 15 seated guests.

The Ivy Chelsea Garden
Also located on the King's Road, The Ivy Chelsea Garden occupies an elegant former Georgian townhouse and is brimming with the subtle yet decadent elegance to be found at any venue within The Ivy Collection's portfolio of venues. The Eden Room features vintage British furniture, opulent floral artwork and pendant lighting and can comfortably accommodate up to 15 seated guests.

The Phene
Built in 1853, The Phene is a genuine Chelsea institution and one of London's most unique pub venues. Famous in more recent years as the watering hole for the late great Manchester United footballing icon, George Best, The Phene enjoys a justified reputation in the local neighbourhood for its quality food and drink & relaxed ambience. The Club Room, The Aviary and The Conservatory private dining rooms at The Phene can all comfortably seat up to 15 guests.
Manicomio Chelsea
Manicomio (the Italian word for Mad House) occupies a former military asylum and has an enviable location, located just off the Kings Road in Duke of York Square in Chelsea. The atmospheric conservatory at Manicomio provides the perfect private dining space for up to 15 seated guests.

The Sloane Club
Located just off Sloane Square, The Sloane Club is a members club with private dining rooms available to hire for exclusive events. The Small Sloane Room provides a chic setting for wedding and civil ceremony lunches & dinners of up to 15 seated guests.
Albert's at Beaufort House Chelsea
Another Chelsea hospitality institution located on the Kings Road, Albert's at Beaufort House is a private members club open to the public for celebratory events. The 2nd floor private dining room is available to hire for seated dining events of up to 15 guests.
The Old Marylebone Town Hall in Marylebone Road is located on the north-western edge of London's fashionable West End and easily accessible, being within easy walking distance of a number of mainline and underground stations including Baker Street, Paddington and Oxford Circus. The venue's close proximity to Regent's Park assists with its desirability as the perfect registry office in central London at which to get married.

Corrigan's
Corrigan's restaurant in Mayfair is a ten minute cab ride from Old Marylebone Town Hall and has a selection of private dining rooms which can comfortably seat up to 15 guests for post-nuptial celebrations.
Sketch
Legendary Michelin starred Sketch restaurant in Mayfair – close to Oxford Circus – has private and semi-private dining rooms seating 8 – 16 guests for lunches and dinners. Sketch also have what are probably the coolest toilets in London!

The Brasserie of Light
The Brasserie of Light is a contemporary restaurant operated by Caprice Holdings located within the iconic Selfridges department store on Oxford Street in London's West End. Less than a ten minute walk from Old Marylebone Town Hall, The Pegasus Room at The Brasserie of Light is perfect for events of up to 15 seated guests.
Vinoteca Marylebone
Vinoteca Marylebone on Seymour Place is an relaxed stroll from the Marylebone registry office. The restaurant's private dining room can easily accommodate 15 guests for celebration lunches and dinners and comes with an integrated private kitchen with a glass sliding door, as well as dedicated waiting staff.
Orrery
Orrey restaurant on Marylebone High Street offers authentic French cuisine. The restaurant is located in Marylebone Village – close to Regent's Park – and has an small private dining room which can seat up to 8 guests for more intimate wedding lunches and dinners.
Camden
Camden Register Office at Camden Town Hall in Judd Street is located just off Euston Road, close to London Kings Cross St. Pancras station which makes it literally one of the most one accessible registry offices in the heart of the capital.

York & Albany by Gordon Ramsay
York & Albany occupies a John Nash designed Regency town house on Parkway in Camden Town, close to Regent's Park and a short hop in a taxi from Camden Register Office. The Regency Room is perfect for seated private dining celebration events of up to 15 guests.
30 Euston Square
30 Euston Square in Euston is an easy walk from the registry office and has a selection of smaller private dining rooms seating from 8 – 16 guests.
Vinoteca King's Cross
Located close to King's Cross and St. Pancras stations, Vinoteca King's Cross is just a few minutes walk from Judd Street. The restaurant's private dining room can comfortably accommodate up to 15 seated guests for post ceremony celebrations.

St Pancras Brasserie & Champagne Bar
Searcys' St. Pancras Brasserie & Champagne Bar is located just a few minutes walk from Camden Town Hall in the heart of St. Pancras International station. The smaller private dining rooms at the venue are ideal for post ceremony celebrations of up to 15 seated guests.

Pied à Terre
A five minute taxi or 10 minute brisk walk will take to David Moore's Michelin starred Pied à Terre in Charlotte Street, Fitzrovia. The private dining room can be found on the second floor of this acclaimed French restaurant and is perfect for seated lunches or dinners of 8 – 15 guests.
The Fellow
The first floor bar at The Fellow gastropub – located in York Way, just around the corner from Kings Cross station, comfortably seats up to 15 seated private dining guests and comes, as you might expect, with its own bar.
The Parcel Yard
Steeped in history and located in a Grade 1 listed building within the refurbished King's Cross station – just a few minutes stroll from the registry office – The Parcel Yard has a selection of private dining rooms able to accommodate from up to 15 seated guests.
Islington and London City Register office is located at Islington Town Hall on Upper Street in Islington. Easily accessible by tube from Angel and Highbury & Islington stations and within a 10 – 15 minute taxi ride from the City of London, this registry office is one of the most popular venues for weddings and civil partnerships in North London.

Frederick's
Less than 15 minutes walk from the King's Cross area – or one stop by Northern Line underground from King's Cross tube station to nearby Angel station – can be found Frederick's restaurant located in Camden Passage, just off Upper Street. This acclaimed Islington restaurant has been run by the same family since 1969. The Clarence private dining room has ample space for post nuptial celebratory events for up to 15 seated guests.
Radici
For lovers of authentic Italian cuisine The Private Dining Room at Radici restaurant, opposite the Almeida Theatre in Islington, seats up to 16 guests. For more intimate seated lunches and dinners, The Wine Room accommodates up to 10 guests.
The Modern Pantry
The Modern Pantry is housed in a stunning Grade II listed townhouse in Clerkenwell – just a ten minute taxi ride from Camden Town Hall in Judd Street. Private dining rooms at this acclaimed Clerkenwell eateries can comfortably accommodate up to 15 guests for seated celebration lunches and dinners/
Please note that – in accordance with UK government guidelines – restrictions may apply to the socially distanced number of guests allowed in private dining rooms during the Covid-19 pandemic. As this may be subject to change we would always recommend that any of the venues mentioned in this article be contacted via telephone or email for up-to-date information regarding private dining room capacity restrictions.