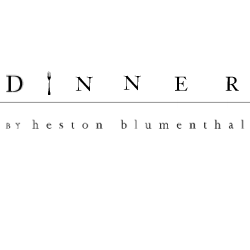 Dinner by Heston Blumenthal
£100+ per person
I'd like to book this restaurant:
Close
Thank you for your interest in Dinner by Heston Blumenthal!
Here are your booking requirements:
For more information regarding availability and prices please call
020 7201 3833
Alternatively, simply fill in your name, email address and phone number in the form below and we will call you back to confirm.
Private dining events at Dinner by Heston Blumenthal
The exquisite, handcrafted rosewood and sapele table – a depiction of the table frequented by King Arthur's Knights of the Round Table and excavated from Westminster Palace – takes pride of the place amidst the leather-panelled walls and sits beneath a bespoke chandelier, fashioned from the largest pieces of hand-blown glass in Britain.
Guests have the option of maintaining the utmost privacy or taking in the theatre of the main restaurant with views out into Hyde Park through its single windowed wall, all from the comfort of dramatic velvet upholstered chairs. Each chair is individually engraved with the name of some of the books that inspired the recipes of the dishes at Dinner by Heston Blumenthal.
Reminiscent of a luxurious Tudor banquet room, the space provides the quintessential environment to enjoy Dinner's British historically inspired cuisine, a collaboration between Heston Blumenthal and chef Ashley Palmer Watts. A 3 or 4 course menu is available from £95 for lunch and £115 for dinner along with wine pairing options.
A Chef's Table is also available for 4 to 6 guests where guests can enjoy an 8 or 9 course tasting menu, as well as exclusive use of the restaurant for groups of 40 to 100 guests.
Private Dining Room
Lunch
3 course menu – £95.00
4 course menu – £115.00
Dinner
3 course menu – £105.00
4 course menu – £125.00
Chef's Table
Lunch
5 course menu – £145.00
8 course menu – £175.00
Dinner
6 course menu – £165.00
9 course menu – £225.00
Please note that – in accordance with UK government guidelines – restrictions may apply to the socially distanced number of guests allowed in private dining rooms during the Covid-19 pandemic. As this may be subject to change please contact the venue via telephone or email for up-to-date information regarding private dining room capacity restrictions.
Gallery