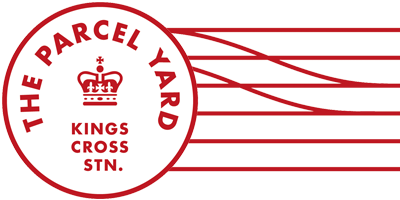 The Parcel Yard – King's Cross Station
£35+ per person
I'd like to book this restaurant:
Close
Thank you for your interest in The Parcel Yard – King's Cross Station!
Here are your booking requirements:
For more information regarding availability and prices please call
07801 576705
Alternatively, simply fill in your name, email address and phone number in the form below and we will call you back to confirm.
The Parcel Yard is a fabulous Grade I Listed venue at King's Cross station located next to Platform 9 and is the largest station pub and dining rooms in the UK.
This historic venue is amazing!
Private dining rooms at The Parcel Yard
Located in a prime London location at an international transport hub with easy access to anywhere – and just a stone's throw from St Pancras International – The Parcel Yard offers an array of private dining rooms, bars and function spaces including a games room.
The venue caters for families, children and reunions and has fully equipped high-spec audio equipment. Its versatility enables it to be suitable for both formal or informal events.
This stunning pub sets the standard for delivering first class train fare inspired by the best of British seasonal produce. Whatever the occasion meet up and start or end your journey in style!
The venue has full access for mobility impaired guests via elevator.
The Boardroom
Capacity – 12 seated.
Looking for somewhere that is sure to relax and impress your guests? This room is perfect for Meetings or hosting celebratory dinners.
Minimum Overall Spend for exclusivity between 5pm-11pm £250.
Half & Full Day Meeting Packages available from £200-350 (includes bottomless Tea & Fresh Coffee, jugs of iced table water, Flipcharts, Pens, TV + HDMI facilities).
The First Class Lounge
Capacity – 35 seated / 60 standing.
Minimum Overall Spend from £350-550.
Boasting wonderful lighting with a high ceiling this exclusive carriage offers guests a sense of privacy and grandeur.
The Games Room
Capacity – 10 seated / 35 standing.
Your very own fun space – think mini pub within a pub! With its very own football table, darts board and traditional games too. Great for 15-20 people and ideal for parties or quirky, casual meetings as well as great for families with children.
Minimum Overall Spend: £250.
The Station Master's Office
Capacity – 27 seated / 40 standing.
A train spotter's dream, overlooking platforms 0-8. Its unusual versatility for many different occasions deserves a closer look.
Minimum Overall Spend for exclusivity between 5pm-11pm £300-£450.
The Loft Bar
Capacity – 120 seated / 250 standing.
Light & airy, extremely spacious and without doubt the jewel in the Parcel Yard crown. Available for all day dining options, birthday drinks and nibbles or company gala to a glorious wedding reception extravaganza; Our events team have a wealth of experience in delivering attention to detail combined with outstanding service that's sure to meet and exceed expectations.
Minimum Overall Spend for exclusivity between 5pm-11pm Sunday – Monday from £24 per person (based on 250 people) to £60 per person for 100 people sit down meal. Tuesday – Wednesday from £34 per person & Thursday – Saturday from £42 per person.
The Waiting Room
Capacity – 100 seated / 120 standing.
Ideal for intimate gatherings – from a wedding ceremony or reception to business breakfast meetings, an office party or company evening out entertaining clients in this inviting flexible space.
Minimum Overall Spend for exclusivity ranges from £850 to £3,500 (depending on factors such as number of guests and whether off-peak daytime or peak evening function).
Please contact Lee our Sales and Events Manager, to discuss your requirements and creative ways of working together.
Please note that – in accordance with UK government guidelines – restrictions may apply to the socially distanced number of guests allowed in private dining rooms during the Covid-19 pandemic. As this may be subject to change please contact the venue via telephone or email for up-to-date information regarding private dining room capacity restrictions.
Gallery