The Strand
Situated in the City of Westminster, between Fleet Street and Trafalgar Square, The 'bustling' Strand thrives with visitors in restaurants, art galleries, shops and theatres. The Courtauld Gallery and Somerset House boast interesting architecture, art and artefacts, as well as a popular outdoor ice rink in the winter at Somerset House. With many of London's famous West End theatres on its doorstep, ample restaurants and bars are perfect for pre-theatre drinks or dining.
Savoy Grill by Gordon Ramsay
£45+ per person
Savoy Grill by Gordon Ramsay has two private dining rooms seating up to 8 and 40 guests. The restaurant itself is available for exclusive takeover for up to 100 seated (200 standing) guests.
»
The Delaunay
£50+ per person
The two private dining rooms at The Delaunay in Adwych accommodate up to 8 and 14 seated guests or 24 on a single table when combined.
»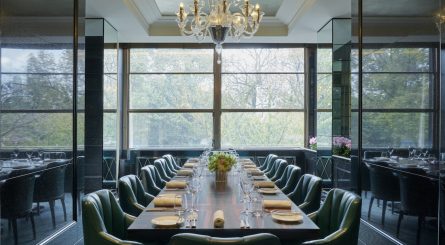 Kaspar's Seafood Bar and Grill
£80+ per person
The private dining room at Kaspar's Seafood Bar and Grill at The Savoy in The Strand seats up to 14 guests.
»