Jan 22, 2020
Private Rooms in London for Mediterranean Sharing & Tapas Style Dining
If you're looking to book an event that's less formal or just where guests get a genuine choice of what and how much they want, then these are the restaurants for you. Check them out below.
From the renowned Manicomio Restaurant group, this fabulously located restaurant by Liverpool Street station has the Wine Cellar for 24 guests (or 40 for standing receptions). With a casual Italian atmosphere, they offer options from the a la carte menu, but also a feasting menu for guests to share from and indulge! Menus cost from £45 per person and there's a minimum spend of £1,200 for dinners.
With four private rooms that can host from 12 to 50 or 150 as an exclusive hire, this classic from Mark Hix is moments from Borough Market. The seasonal British ingredients feature chicken and steak as well as fish and seafood. Small plates are great for sharing at a reception or for a truly gourmet feast. It's also licensed for wedding ceremonies and guests can be offered masterclasses on request.
From the team behind the Brighton success, this venue at Tower Bridge has two private rooms – one for 14 on one table and or 20 on two long tables and a mezzanine for 50 guests. Parties can choose between individual options or their speciality coal-roasted feasting platters of whole market fish and rare breed meats. Menus start at around £45 per person and there are also sharing Sunday roasts!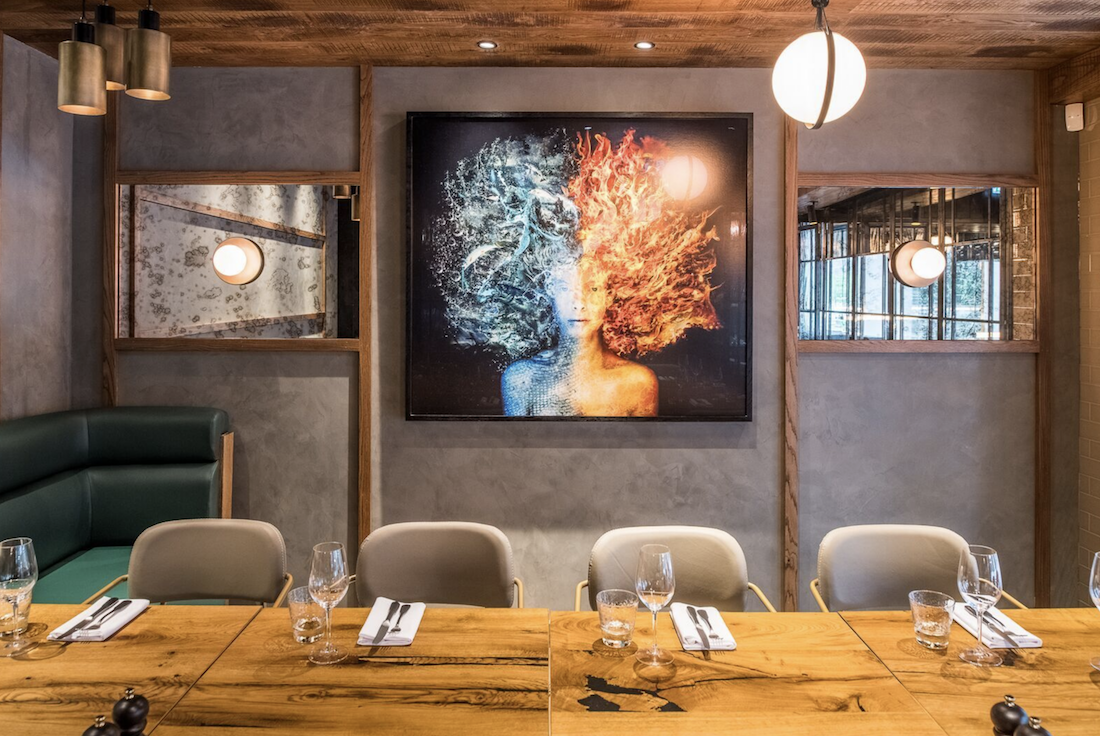 This delightful Italian in Clerkenwell from the owners of The Clove Club offers two beautiful and intimate private dining rooms: The Garden Room and The Pasta Room for up to 8 or 10 guests. Menus feature some individual plates and the traditional Italian feasting style including antipasti and other courses which are placed in the middle of the table to share. Menus start at around £55.
A Hampstead favourite, this restaurant-cum-gastropub is full of rustic character and boasts a private dining room for up to 14 people or 25 for a drinks and tapas reception. Food is inspired by the flavours of the Mediterranean, Southern France, Italy and Spain and private dining menus reflect this spread, beginning with a tapas style selection of charcuterie and antipasti. However, guests are able to choose their own main and desert from a pre-chosen choice menu. Menus start from £25 per person.
El Vino
The Olde Wine Shades is one of the oldest bars in the City, predating the Great Fire of London, and has five private rooms for between 6 and 50 hidden in its nooks and crannies. Others of the same brand are at Blackfriars and Masons Avenue which both have two private rooms for 8 and 16 as well as exclusive hire for up to 150; or at Fleet Street where three rooms can cater for between 20-30 guests each (120 exclusive hire). Menus feature their fabulous selection of Spanish, Portuguese and South American tapas and start at around £35 per person.
Barrafina
This super-popular Spanish restaurant is well loved for its superb tapas offer and has three sites with private rooms. The restaurants at Coal Drops Yard and Drury Lane each have a private room for between 8-25 guests, while Adelaide Street has two rooms – a chef's table for just 8 and another for up to 32 guests. Private pintxos receptions can be arranged while tapas menus at all venues cost around £40 per person.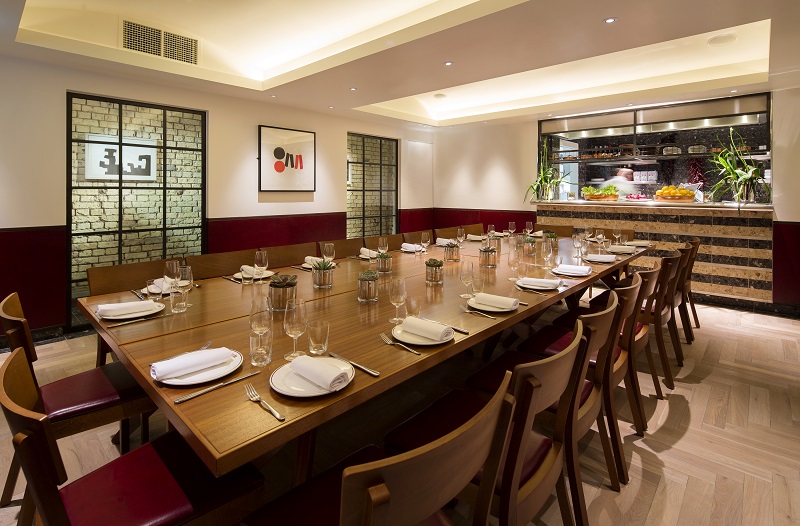 This fabulous venue atop Regent's Street offers three different spaces, one of which is the contemporary Spanish aqua nueva La Casita, which comes with its own private terrace. The two private rooms can seat 15 each or up to 30 combined or host 80 for a standing reception. The menu is divided into classic and contemporary plates for sharing.
The Cook's Room at this fabulous meat-lovers' haven seats up to 22 and boasts its own open kitchen so guests can really feel involved with the cooking of their meal. A gourmet five course feasting menu is available with chefs cooking the dishes in front of guests. There's also a variety of group sharing menus which include a selection of signature seafood and beef dishes. Menus cost around £85 a head.
This friendly Italian specialises in Venetian-style cuisine and offers a semi-private dining area for 20. Located close to Victoria, the restaurant's ethos is about friends enjoying good times together and sharing great food in small plates – cicchetti – around a large table. Wine master classes and cooking lessons are also available. Menus cost around £45 a head.
This gorgeous Basque country bistro has a private dining room for up to 30 (or 35 standing). They offer a set menu of two dishes from each course for £50 per person – including meat, vegetables and fish. They also offer a canape menu for £25 per person for six pieces.
This acclaimed Italian restaurant has a secret gem of a private room with a bespoke teak table beneath the main restaurant. Parties of up to 32 guests are recommended to choose from the feasting menu – which includes irresistible antipasti platters, suckling pigs, whole fish and fabulous gelato cakes to share. The prix fixe menus start at £30 for three courses with sharing menus around £50 per person.
This iconic restaurant on The River Thames has a private room for 18 that houses a wall length, walk-in glass-fronted cheese fridge and opens out to the riverside courtyard which can be used for pre-dinner drinks and receptions. Menus start at £90 for three courses rising to £120 for five courses and all start with a classic antipasti spread for the whole party to share. Minimum spends apply.