Oct 3, 2016
London's Best Private Dining Rooms For Small Christmas Parties
If you're a small but select team – like us here at privatediningrooms-towers, or a close knit department within a larger organisation, holding your Christmas bash in a private room can make that festive celebration a touch more special and much nicer than a squashed table in the corner of a busy restaurant with everyone craning to hear what each other is saying.
Here's our 21 gun salute to the best small private rooms in central London – each one is worth a shot (get it?)
Ready, aim, fire….
Mews of Mayfair has 8 private and semi-private spaces ranging from 10 – 80 guests (seated) as well as three stylish bars for after dinner drinks. Festive set menus cost £70 or £80 for three courses, petit fours and cheese board and there's also a great selection of Christmas cocktails – but whether you're up for the Holy spirit or a Scrooge's Nightcap is up to you and your crowd.
Hush offers its Narnia-style Silver Room for 40 and more funky private dining room for 60– complete with separate bar & cloakroom and dance floor. Christmas menus are tbc but general per head cost is around .
Bunghole Cellars (formerly the popular Davy's of Holborn) has two private dining rooms seating up to 15 guests or 30 combined. There's 20% off parties held from 28 November to 7 December, BOGOF deals on pre-ordered wines and reception mulled wine or fizz for just £4.50. Two festive courses for £29.95, three for £34.95.
Sharing is caring at Bocca di Lupo – with their downstairs private room the perfect venue for 12-30 guests to enjoy gorgeous antipasti and divine Italian produce around a beautiful large teak table – just like mamma would have wanted.
Aubaine has various different private rooms in its venues but Mayfair's downstairs room (for 27) is particularly evocative for Christmas and Marylebone's first floor space is ideal for standing receptions and a good old party for up to 80 guests. Christmas menus tbc.
The Cage may not sound like a very festive venue but in the hands of The Wright Brothers, it's one of the most popular private spaces. Within a metal cage, surrounded by the kitchen, up to 18 guests (seated) can enjoy menus starting at £39 rising to £69 with optional extras of scallops, langoustine, lobsters and oysters.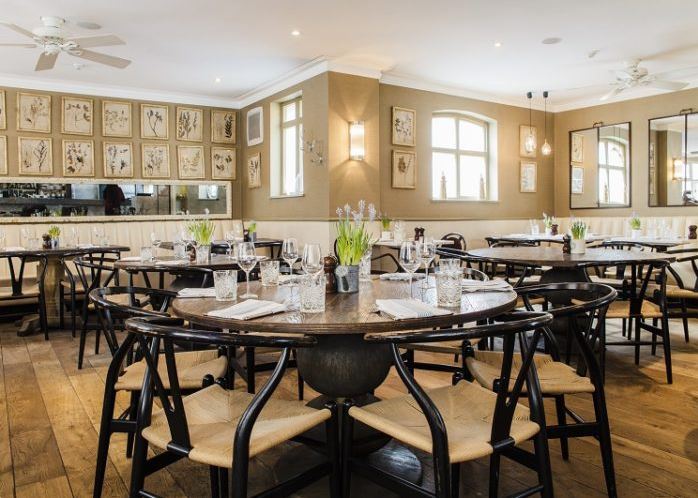 Timeless
For a bit of timeless glamour, we love The Martini Library at The Arch, just perfect for a pre-reception drink and dinner for 48 or standing reception and mouth-watering canapes for up to 50. Three festive menus range from £55 three course menu with amuse bouche, sorbet and petit fours to £85 with a glass of bubbly and cheese course added for the full gourmet experience.
The Wolseley has a discreet domed-ceiling private room for just 14 above their bar with the ability to see out without being seen. Great voyeuristic potential, as well as being able to enjoy the buzzy atmosphere without being in the midst of the hurly-burly. Menus start at £50per person.
The Jimmy Marks private dining room at Wiltons seats an exclusive 20 guests. With Stilton soufflé and venison on the Christmas menu for £75 per person, there's also the option to order Norfolk turkey for a minimum of 10 guests for £250.
Quo Vadis's beautiful refurbishment over the summer totally nails elegant yet casual. Its second floor Marx (12) and Leoni (32) rooms have been stylishly reconfigured but still feel light and airy. Menus start at £35, rising to a delectable feasting menu for £55 just perfect for Christmas indulgence.
Round the corner, L'Escargot has three gorgeous private rooms in which to have a sit down do for up to 32 or the uber-chic penthouse living room styled Le Salon Noir, ideal for up to 75 for standing receptions. Three course Christmas menus start at £50 per person, rising to £75 for a four course extravaganza including lobster bisque, beef and 'chocolate indulgence'.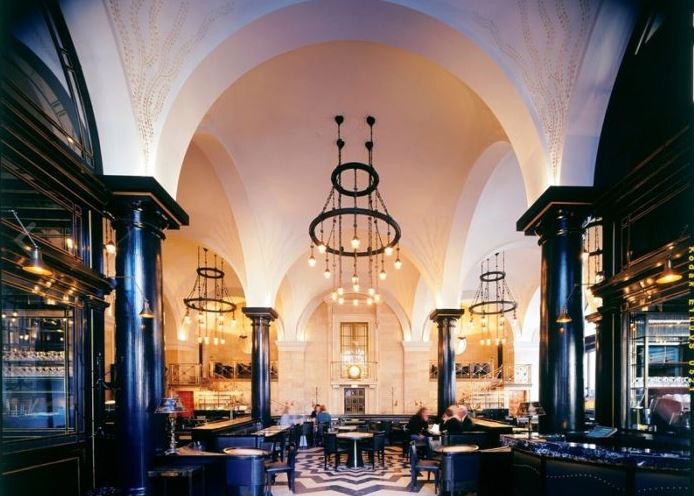 International Party
Benares' Dover Room – a long private room at the far end of the restaurant is perfect for a festive feast. Seating up to 36 there's the option to partially open the doors for more ambience or close off for privacy. The festive feasting menu at the Michelin starred restaurant costs £65pp for parties of over 9 guests.
We love the two private rooms at the Cinnamon Club for 60 and 24 but the semi-private mezzanine for 30 overlooking the main restaurant is also a great site for a Christmas party. Menus start at £38 per person rising to £75 for a full blow out, while for standing receptions bowl food starts at £6 and canapes at £3 a bite.
The pan-Asian Cocochan has an atmospheric private room with long velvet sofa, candlelit tables and purple dimmed lighting for up to 30 guests. Set menus start at £40 per person rising to £50 a head. There are even DJ decks for those wanting to really party.
Hakkasan Mayfair may be a classic, but it's earned that title for a reason. With a private room for up to 18, it's the perfect venue for an intimate Christmas get together with a modern Chinese twist. Signature festive menu starts at £58 per person rising to £128.88 which includes champagne, caviar and Wagyu beef.
For a spot of celebratory sushi for 10 Aqua London's Kyoto side has a rooftop terrace to die for overlooking Oxford Street as well as fabulous Japanese fare or why not book out the sushi bar (up to 13) at Sake No Hana for an immersive fun festive experience.
Peruvian has been the 'new cuisine' on the block for a while now, and its popularity shows no signs of fading. To celebrate Christmas in style, try Ceviche Soho for parties of 14 or 60 or over in Shoreditch, Andina's two private rooms for 22 or 40 guests with sharing menus priced at £30, £38 and £50 for nibbles, ceviches, classic dishes and desserts.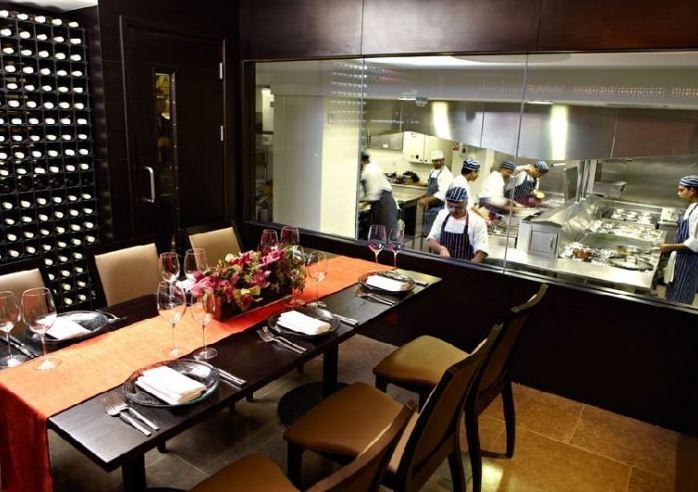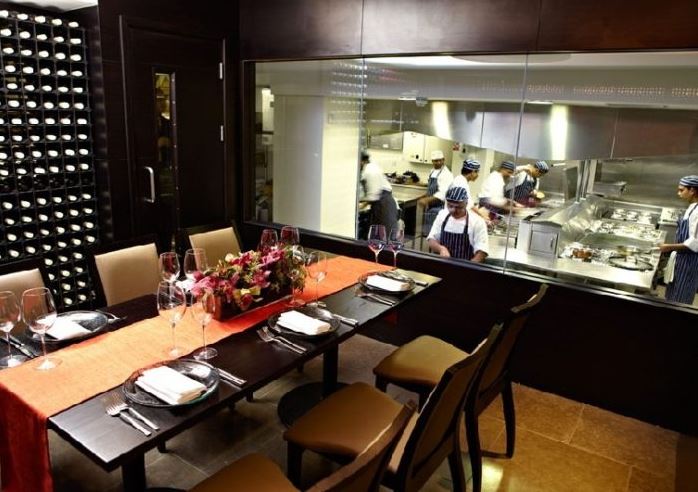 Steak
Smiths of Smithfield's first floor is open for Christmas parties up to 40 guests in December on top of their other private rooms for 28 guests. Festive menus all begin with a gourmet (and conversation inducing) share board for the table followed by options of turkey, lamb, beef, halibut, sea bass and more. Menus start at £45 rising to £55 with options of adding glasses of fizz, sides and magnums of wine (£79-275).
And finally, Mayfair's Greig's Restaurant has 3 private dining rooms available to hire for events, seating between 10 to 42 guests. With old school wood panelling and their signature coal grilled steaks on the Christmas menu amongst other options, it's a sure fire winner especially with some dates a three course menu costing just £29.95 (other menu options go to £49.95).