Jan 25, 2017
Banqueting Halls & Venues for an Exclusive Event, Large Lunch & Dinner
Looking for a great venue for a classic sit down banquet? Whether that's a corporate dinner, awards lunch or wedding breakfast, we've dug out the best venues in London for this type of event.
Livery Halls
Traditional livery halls used to be old and fusty (and between us I'm sure some still are!) but not at the Innholders Hall where the old wooden panelling of The Great Hall is the only antique. Former Michelin starred City chef Herbert Berger has been cooking up a storm there for a few years now, meaning the only crustiness you'll find is on his sumptuous food. Packages for up to 94 guests start at £74 per person, although buffet and breakfast menus are also available.
Similarly, the sumptuous neoclassical design of the Great Hall and Livery Hall at Plaisterer's Hall are guaranteed to impress. With space for up to 360 seated or 600 for standing receptions, it's one of the largest City venues for formal dining. It's worth noting, that the Concerto group also manage Oxo2 with its private spaces overlooking the River Thames and Southbank. With dry hire available, it provides a versatile blank space for all manner of events for up to 200 guests (seated).
Iconic Venues
Another genre of 'iconic' banqueting venue sees fabulous formal dining rooms available at both Lord's Cricket Ground in the Long Room for up to 200 guests (seated) with views of the hallowed grounds and at The Swan at Shakespeare's Globe where up to 350 guests can enjoy a seated event in the Underglobe venue space. Menus at Lord's start at around £50 a head, while the Swan's lunch menus begin at £24.50 and dinner from £35.50.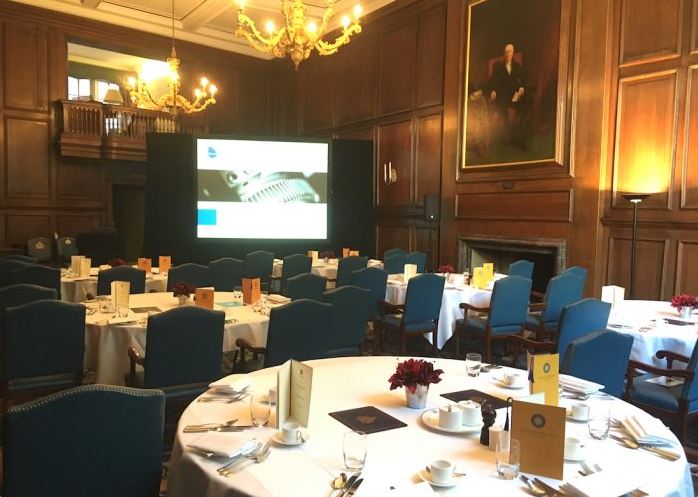 Hotel Banqueting with 'Wow' factor
Many London hotels also have stunning banqueting spaces – our tips for the most interesting and unique are found at Liverpool Street's Andaz – in its Temple room – yes it was originally a masonic temple complete with stars, symbols and more – for up to 30 seated or 60 standing. It makes a unique venue for any smaller banquet, while over at the Corinthia Hotel, the beautifully restored Victorian Ballroom hosts seated events for up to 180 (300 standing) and boasts full height windows, as well as its own entrance. With similarly spectacular Victorian grandeur, the Gladstone Library and interconnecting Reading and Writing Rooms at One Whitehall Place in the Royal Horseguard's Hotel hold banquets of up to 250. Menus start at £70 per person with tea, coffee and petit fours included and extra courses optional.
Another temple-style venue (there are more of them than you might think!) is the Bleeding Heart's crypt in Farringdon. One of the most atmospheric venues in the City, the old church crypt seats up to 120 guests, was used for one of Henry VIII's wedding receptions and is the perfect venue with a real 'wow' factor for even the most world-weary of corporates. With catering by the Bleeding Heart team, the modern French menus are also fabulous and bespoke packages are also available.
Modern Rooftop Banqueting Venues
At 30 Euston Square, a more modern style is found within the architecturally striking building. Banquets of up to 160 are catered for by renowned in house caterers Searcy's in the Penthouse State Rooms with Rooftop Terrace and there are also 41 handy boutique bedrooms for any guests needing to stay over.
Another contemporary knockout can be found at Blue Fin Venue. On the 10th and 11th floors of the award winning Blue Fin Building, the venue seats up to and boasts a rooftop garden. The Winter Garden seats 150, while the Blue Sky Lounge caters for up to 80 for a sit-down lunch or dinner with menus available on request.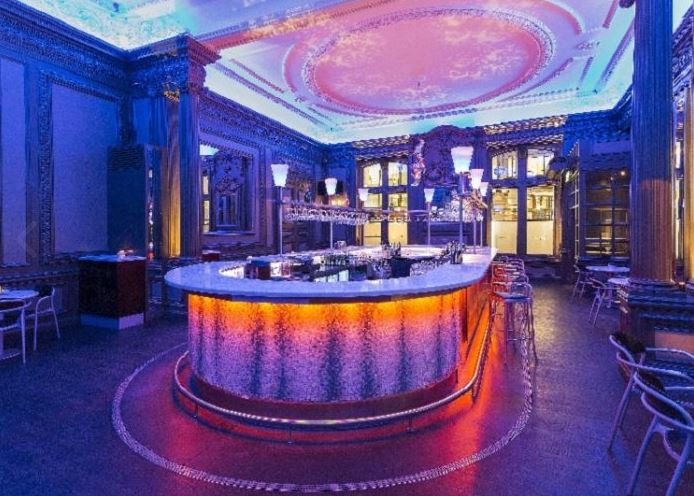 Hidden Gems
A hidden gem just off St James's Street is The Royal Overseas League, which offers two large banqueting rooms – The Princess Alexandra Room for 80 guests and the Hall of India and Pakistan for up to 100. Part of Grayson's Venues, they offer two courses for £32 and three from £42, the latter with coffee and petit fours included.
Just around the corner, the Edwardian gem 4 Hamilton Place offers the Argyll Room for up to 120 or 200 standing, with its roof terrace overlooking Hyde Park. Modern European menus with unlimited house wine, beer and soft drinks cost £99 per person + VAT (including room hire).