Feb 23, 2022
The best private dining rooms in Soho
The best restaurants with private dining rooms in Soho
Soho – in the heart of London's busy West End – has undergone significant redevelopment in the last few years which has served to gentrify it. Despite the architectural modernisation, Soho retains the unique bohemian and slightly risqué ambience that has long been found in its warren of streets and is rightly renowned for the internationally famous Liberty department store, Ronnie Scott's jazz nightclub and its vibrant Chinatown district.
Soho has a plethora of restaurants located within its historic buildings serving a fantastic range of cuisines, many of which with private rooms available to hire for group dining events. In this article we focus of some of the very best restaurants with private dining rooms in Soho, London W1.
Andrew Edmunds
46 Lexington Street, London W1F 0LW.
Andrew Edmunds restaurant has occupied an 18th century townhouse in the heart of Soho since 1985. Serving a hearty take on Modern European cuisine, the restaurant has an extensive wine list. The private dining room at Andrew Edmunds is available to hire on Saturdays and Sundays for group dining events of up to 20 guests.
30 Argyll Street, London W1F 7EB.
Aqua Regent Street is actually accessed via its entrance on Argyll Street and is known for the unique selection of contemporary Spanish and Japanese cuisine served at its Aqua Nueva, Aqua Kyoto and Aqua Spirit integrated restaurant spaces. Aqua Nueva has two private dining rooms each seating up to 15 guests which can be combined to seat up to 30 guests and Japanese Aqua Kyoto has an intimate PDR seating up to 10 guests. Both restaurants have a roof terrace with extraordinary views over the West End skyline.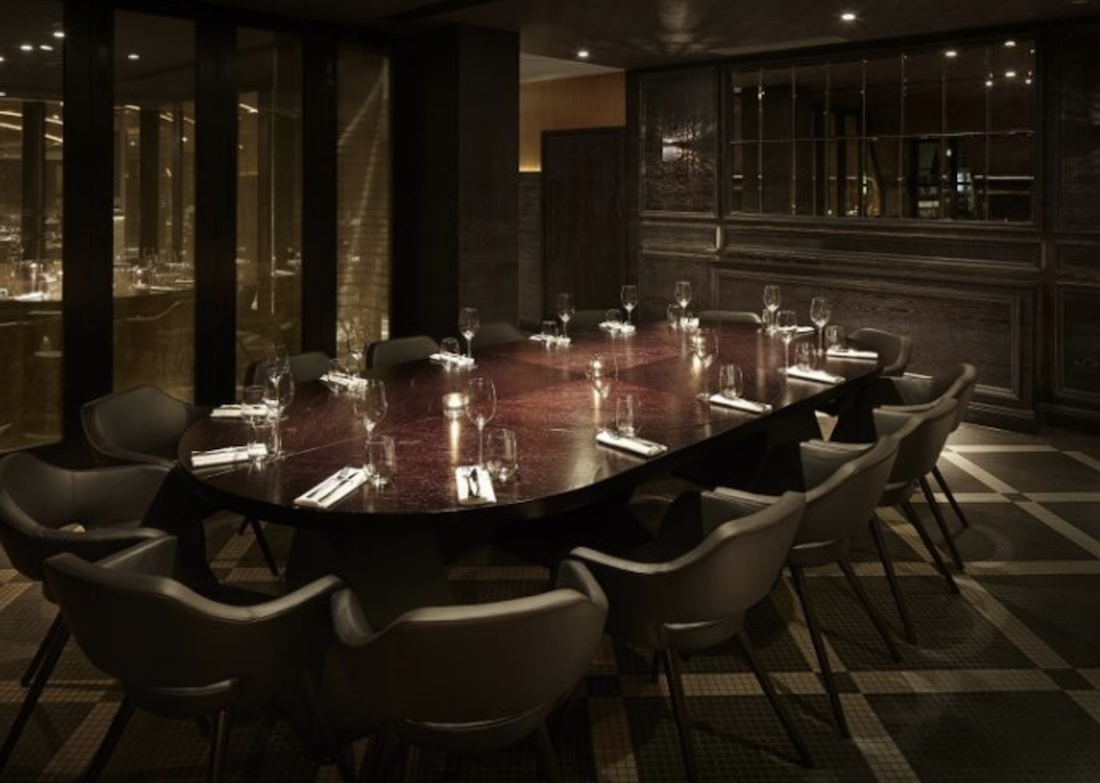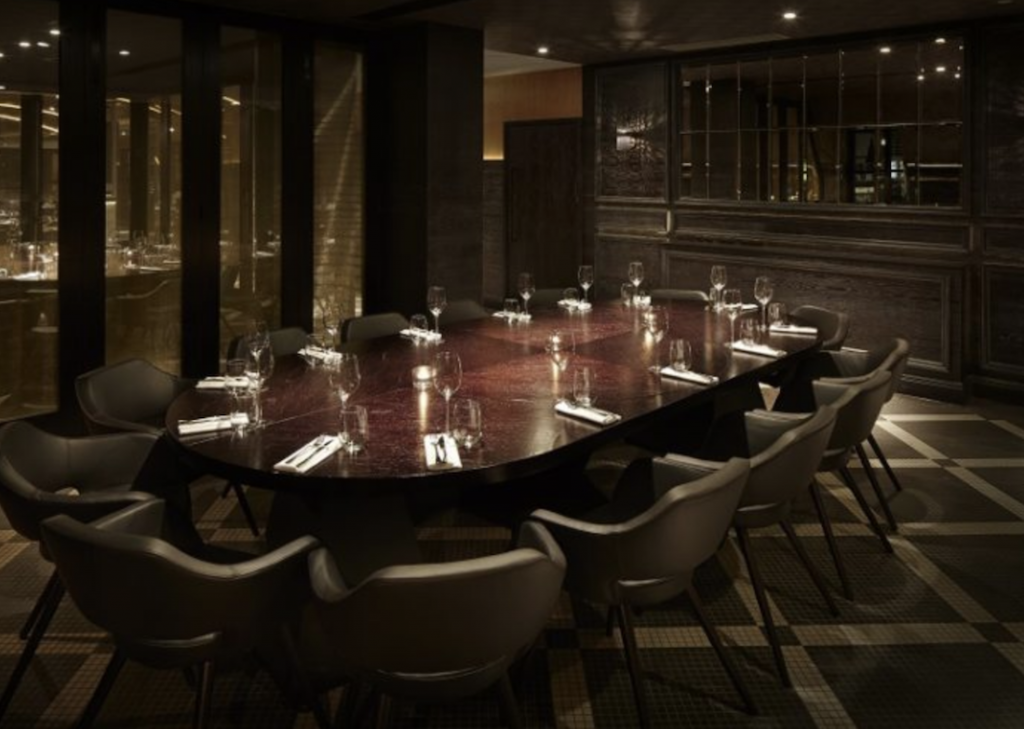 Blanchette
9 D'Arblay Street, London W1F 8DR.
Run since its opening in 2013 by three brothers and named after their mother, Blanchette is an authentic French bistro which is a short stroll from Soho Square. The restaurant has a great selection of vins français and an impressive contemporary cocktail list. The atmospheric Jungle Room at Blanchette is themed by a hand painted mural and is ideal for more intimate private dining events of up to 15 seated guests.
1 Upper James Street, London W1F 9DF.
Located close to Golden Square – and sister restaurant to Bob Bob Ricard City in the City of London – Bob Bob Ricard Soho has caused quite a stir on the London dining scene since its opening in 2008. Restaurateur Leonid Shutov's opulent David Collins designed Soho restaurant is famous for its 'Press for Champagne' buttons which are fitted at every table – now that's what we call style – and serves a unique selection of Russian and British cuisine complemented by an extensive well priced selection of wines and champagnes. The private dining room at Bob Bob Ricard Soho is modelled on a royal dining carriage and seats up to 16 guests.
12 Archer Street, London W1D 7DD.
Another 2008 Soho restaurant opening was Jacob Kenedy's Bocca di Lupo which opened in November of that year. Serving the finest authentic regional Italian cuisine, Bocca di Lupo has won many accolades for its culinary excellence and specialises in serving feasting menus. This delightful Soho Italian restaurant has a comprehensive list of Italian regional wines and is also rightly known for its fabulous selection of cocktails including negronis and bellinis. The Remus Room features a bespoke teak table and accommodates up to 32 seated guests for private dining events.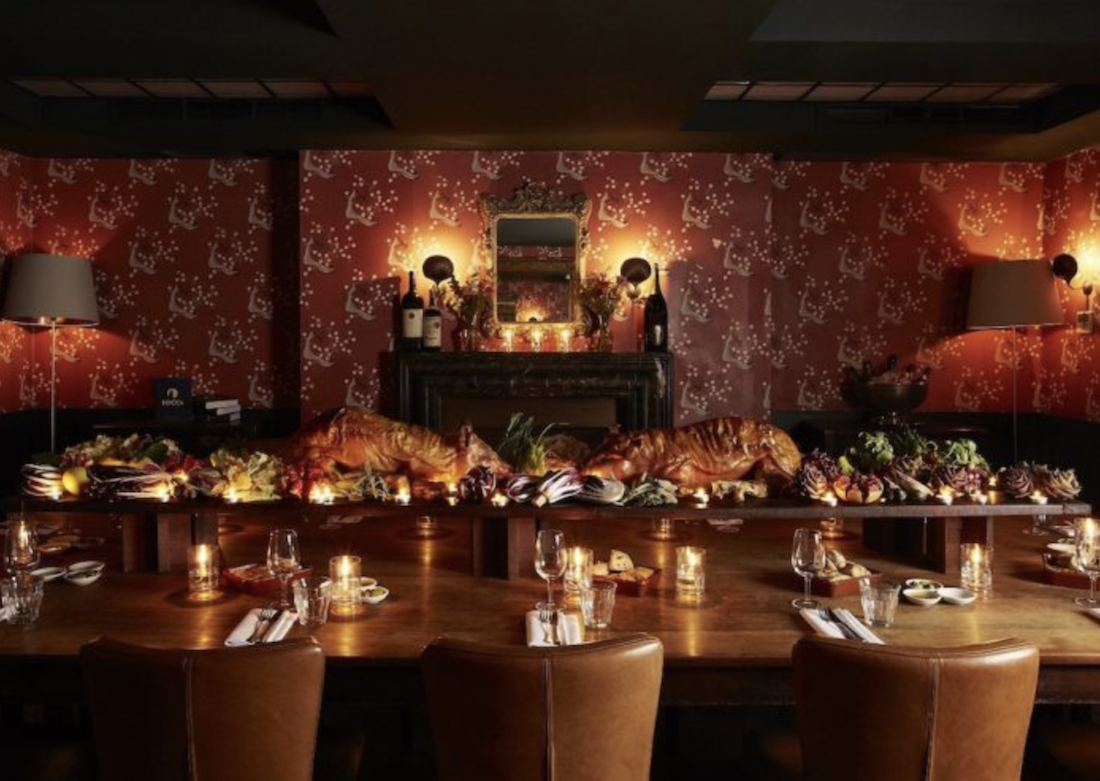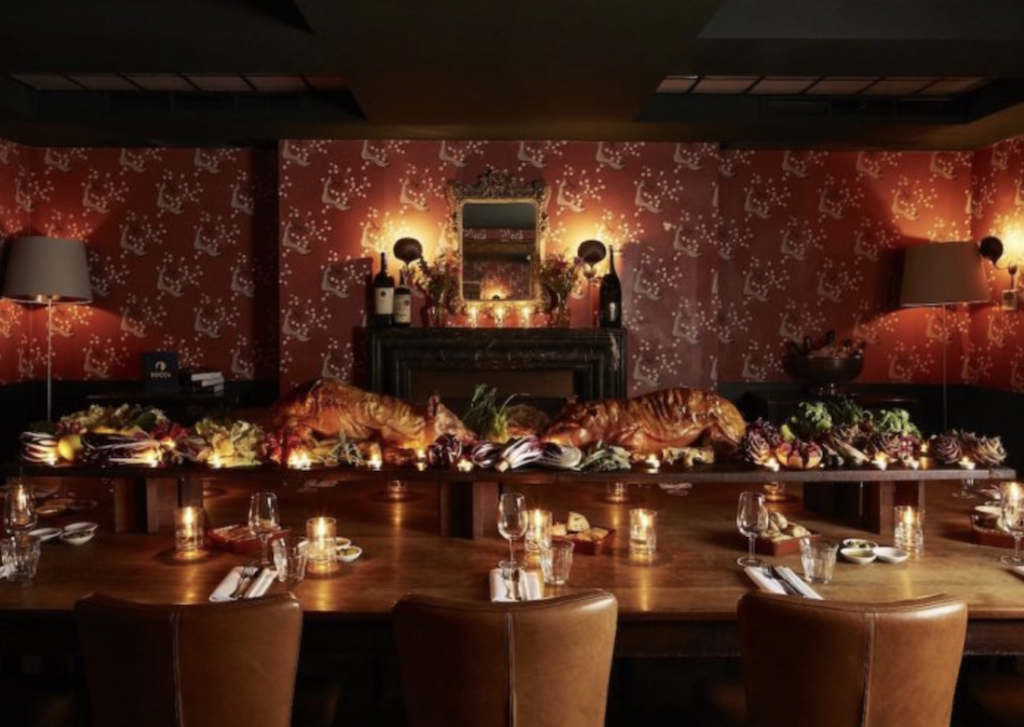 Gauthier Soho
21 Romilly Street, London W1D 5AF.
Gauthier restaurant in Soho opened in 2010 and has received massive acclaim including Michelin recognition for its culinary excellence ever since. Chef Patron Alexis Gauthier caused quite a stir within the London restaurant industry in 2021 when he changed the restaurant's menu to completely plant-based vegan. This exquisite French restaurant occupies a three storey Regency townhouse and has four private dining rooms with capacities for 12 – 40 seated guests and a Chef's Room seating up to 4 guests.
48 Greek Street, London W1D 4EF.
L'Escargot has occupied its three storey 18th century Georgian townhouse premises at 48 Greek Street since 1927 and serves authentic French cuisine, describing the food it serves – including its legendary escargots with garlic butter – as being in the Parisian grand brasserie style. This legendary Soho French restaurant is has private dining rooms seating 12 – 35 guests on its 2nd and third floors making it an ideal choice for medium sized group dining events in the West End.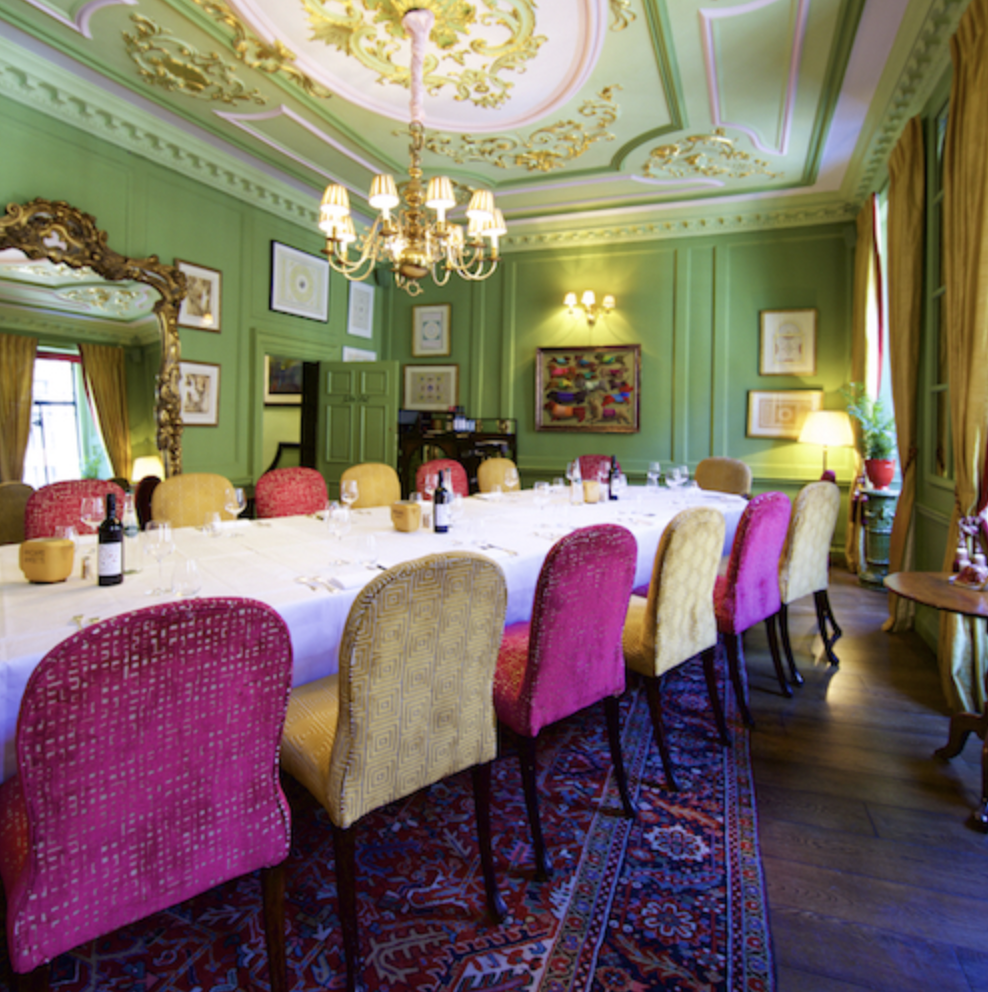 2 Greek Street, London W1D 4NB.
Following the closure after 65 years of Soho's legendary Gay Hussar Hungarian restaurant in 2018, the opening of Noble Rot on the same Greek Street site in 2020 added a great newcomer to the Soho dining scene. Serving a unique European menu alongside a wine list befitting the wine importing heritage of owners Dan Keeling and Mark Andrew, Noble Rot Soho has a first floor private dining room seating up to 10 guests.
100 Wardour Street, London W1F 0TN.
Housed in the building made famous in the 1960s by the iconic Marquee Club live music venue, 100 Wardour Street is a Soho restaurant & club operated by the D & D London restaurant group. Serving an eclectic range of International cuisine, 100 Wardour Street has two private rooms for small private dining events. The Playroom provides semi-private space for up to 12 seated guests and The 100 Room seats up to 20 guests. Whilst you're there be sure to check out the fantastic cocktail list.
26-29 Dean Street, London W1D 3LL.
Quo Vadis has occupied its three storey Soho townhouse – the district has lots of them – since its opening in 1926. At one time the home to Karl Marx, Quo Vadis is run by the acclaimed Hart Brothers London restaurateurs and chef Jeremy Lee. This Soho dining institution serves Modern British cuisine and has a four private dining rooms on its 2nd floor seating 9 – 32 guests.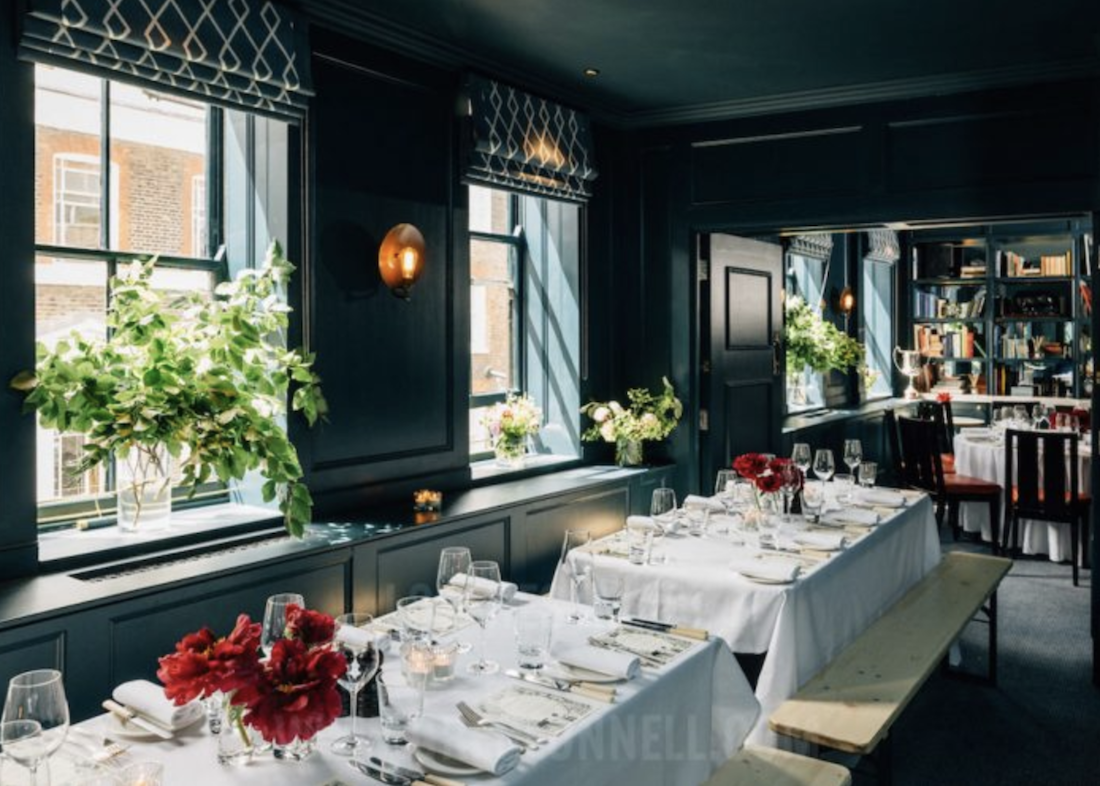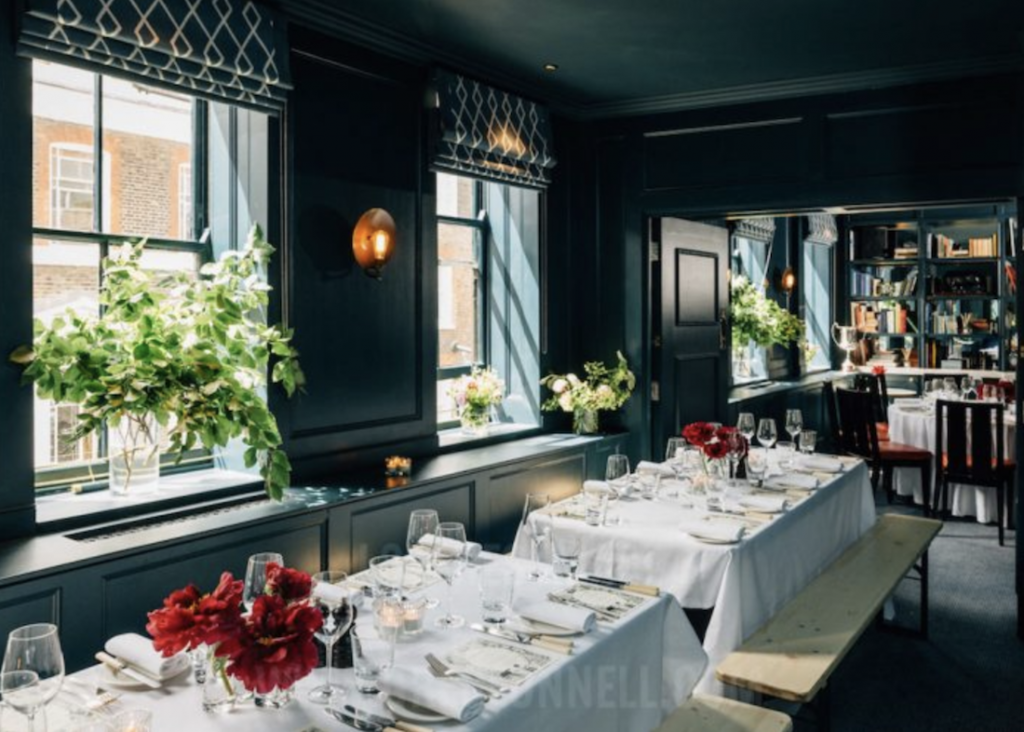 The Blue Room at Quo Vadis
Established in 2008, Private Dining Rooms is the oldest and most trusted online resource for booking private dining rooms at restaurants, hotels & gastropubs in London and cities throughout the United Kingdom. Our venue finding service is free of charge and we can be contacted by telephone on 020 7305 5044.