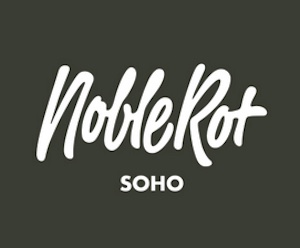 Noble Rot Soho
£60+ per person
I'd like to book this restaurant:
Close
Thank you for your interest in Noble Rot Soho!
Here are your booking requirements:
For more information regarding availability and prices please call
020 7183 8190
Alternatively, simply fill in your name, email address and phone number in the form below and we will call you back to confirm.
Nestled in the historically significant site of the former Gay Hussar on Greek Street, Noble Rot Soho is an emblem of both the political and culinary heritage of London.
Once frequented by prominent British leaders such as Clement Attlee, Gordon Brown, and Tony Blair, it's a place where every brick, every corner has a story to tell.
The building stands tall, preserving its timeless elegance, as Martin Rowson's brilliant triptychs commemorate past and present patrons.
When it comes to the culinary aspect, under the aegis of Head Chef Alex Jackson and Executive Chef Stephen Harris, the menu tells a story too – one of classic tastes, contemporary twists, and subtle nods to The Gay Hussar's legacy.
Don't leave without trying the roast chicken with morels and vin jaune sauce – it's a journey to France's Jura on a plate.
The intimate private dining room at Noble Rot Soho
Located on the second floor, the private dining room at Noble Rot Soho has silently borne witness to history. From being the backdrop for intense Labour party strategy sessions to being the haven for discreet rendezvous, this room is rich with tales of the past.
The room comfortably seats up to 10 guests, affectionately termed as "rotters" by the establishment.
A la carte menu is available for up to 6 guests with a reduced a la carte for 7 – 10 guests.
Lunch sitting is available from noon to 5 pm with dinner from 6 pm to midnight on Monday to Saturday.
A private dining minimum spend of £500 (excluding service charge) applies*
For dinner reservations a prepayment of the minimum spend is mandatory.
Cancellation: Two-week notice, beyond which a fee equivalent to the minimum spend is charged.
*From 1st to 24th December, a £1,000 minimum spend for private dining room reservations applies.