Feb 20, 2018
Where are the best private dining rooms within two hours of London?
Where are the best private dining rooms within two hours of London?
Need to arrange an event outside London that hits the sweet spot of country feel whilst being without being too far for your guests to travel? These gems are all within 2 hours of London and definitely worth the journey..
Modern British
This stunning boutique hotel, a stone's throw from Reading station, is easily accessible and boasts a private cinema for up to 30 guests amongst its private rooms. Other private rooms include the Eden Room for 40 and Library for 30, the Cellar for 14 and the Cerise & Cocktail bar for 100.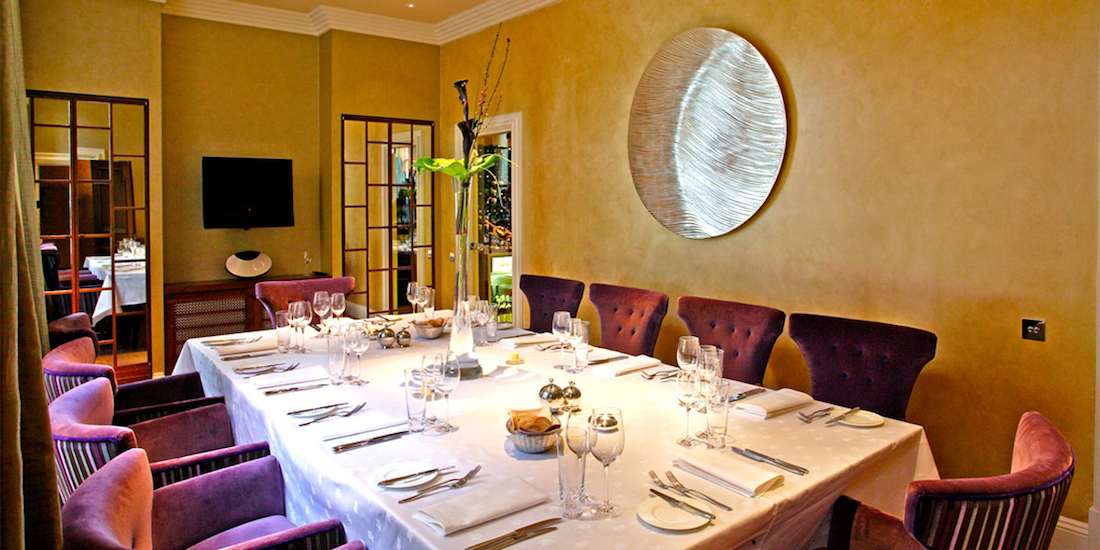 Traditional British
It goes without saying that Heston Blumenthal's 'inn' is more than the sum of its parts. With two private rooms, The Vicar's Room for 22 and The Royal Room for 50, guests can enjoy this fabulous Michelin-starred cuisine in unique & atmospheric surrounds. But be warned – no event bookings are taken for weekends, Monday – Friday for lunch and Monday – Thursday for dinner.
The Ivy Montpelier Brasserie, Cheltenham, Gloucestershire
French
As part of the expansion of this iconic brand, this branch features the brightly coloured Papworth room designed by the renowned Martin Brudnizki Design Studio. With room for 24 guests, the red leather padded chairs ensure hours of comfortable wining and dining.
Barton House, Oxfordshire
Modern British
Fancy holding an event in a wonderful Georgian townhouse with acres of private grounds and stunning interiors? Both the Dining Room and Garden Room seat 30 or 60 combined, where guests can indulge in the carefully sourced seasonal menu, much of which is from their own kitchen garden.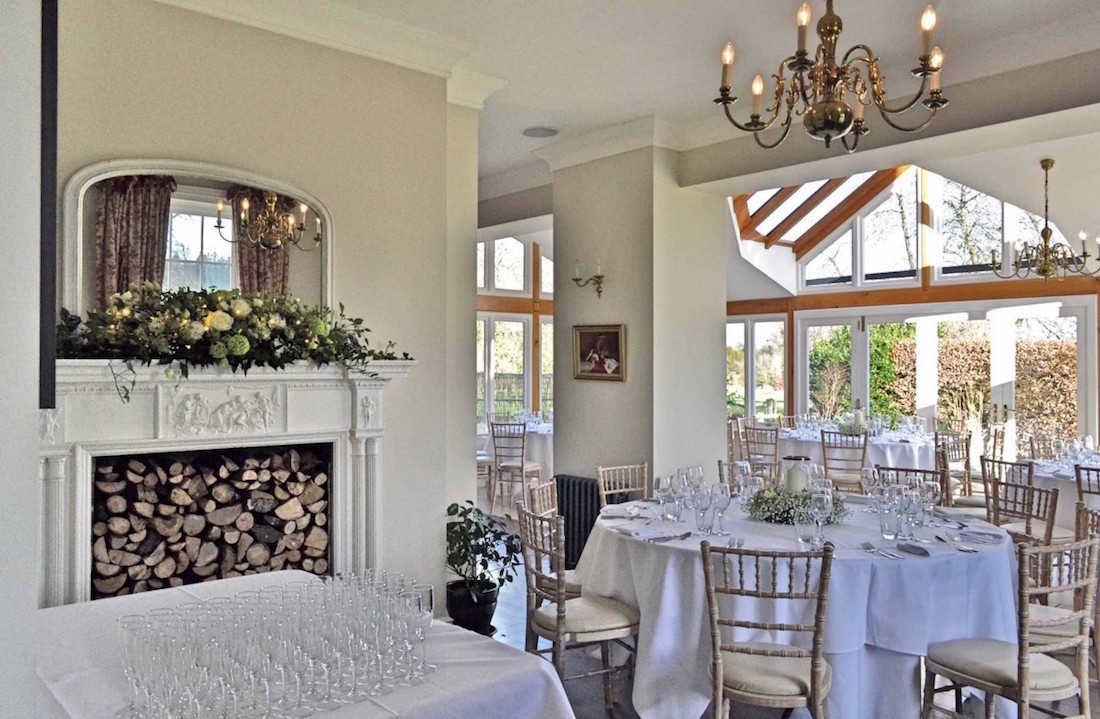 Le Manoir aux Quat Saisons, Oxfordshire
Modern French
Raymond Blanc's timeless two Michelin-starred showstopper offers the fabulous Belle Epoque private dining room for up to 50 guests for lunch or dinner. Set menus, with ingredients sourced from his famous gardens, include gateâux apéritifs, an assiette apéritif, coffee and homemade petits fours.
Fallowfields Hotel and restaurant, Oxfordshire
Modern British
The husband and wife team here ensure not only excellent food but a seamless transition between kitchen and restaurant. The Library Private Room seats an intimate 14, but the restaurant itself can be hired for exclusive use for up to 40 guests. Guests can enjoy meat from their own rare breeds as well as fruit and vegetables from their orchard and kitchen garden.
Portabello restaurant, Oxfordshire
Modern European
With a versatile private room above the main restaurant for 36, it's ideally situated for a variety of events from standing receptions – where canapé menus start at £12.95 pp, to a three course dinner party, where menus start at £24.95. Our top tip is the banqueting menu option
where suckling pig, lobster & shellfish or seasonal game are available.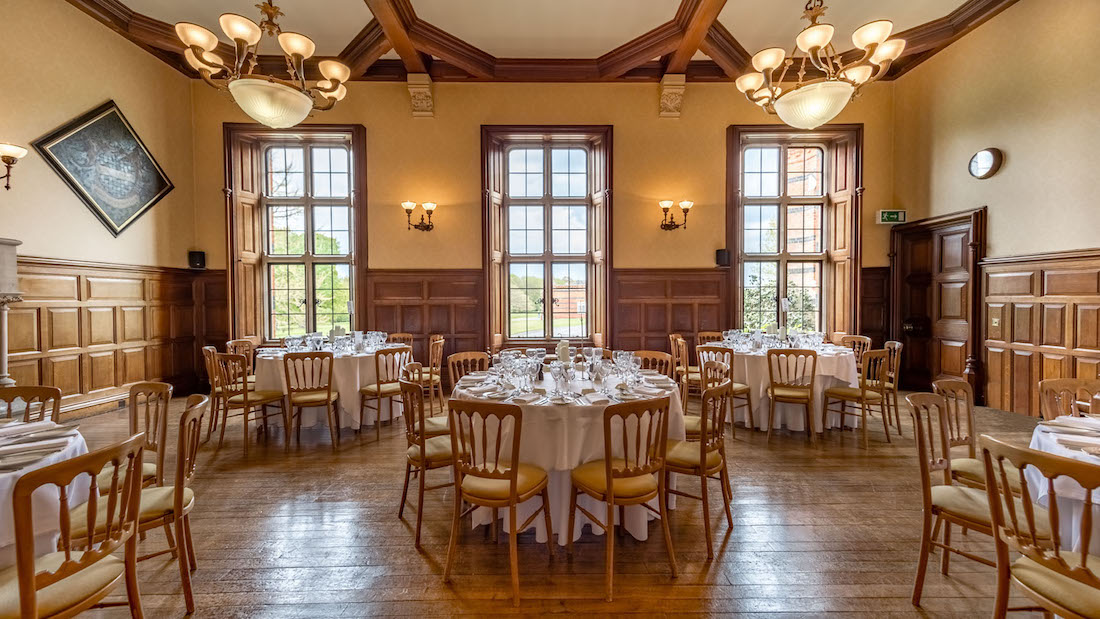 The Elvetham, Hampshire
Modern British
A wonderfully grand Victorian house set in acres of stunning gardens, all three private rooms boast a host of original features. The Morning Room and The Oak Room both seat 50, while The Library can cater for up to 120 seated. Ideal for lunches and dinners but they also do a fabulous afternoon tea!
Piccolino, Bristol
Italian
This popular local chain has a private room upstairs for 18 – ideal for birthday parties, get togethers and casual corporate events.
Sopwell House, Hertfordshire
Modern European
This imposing Georgian mansion never fails to impress. With a staggering 19 different private function spaces ranging from 10 to 80 it's suitable for all manner of events from corporate entertaining to wedding receptions and much more. We love that you can add something uniquely special – like a cocktail masterclass – to really get your event going.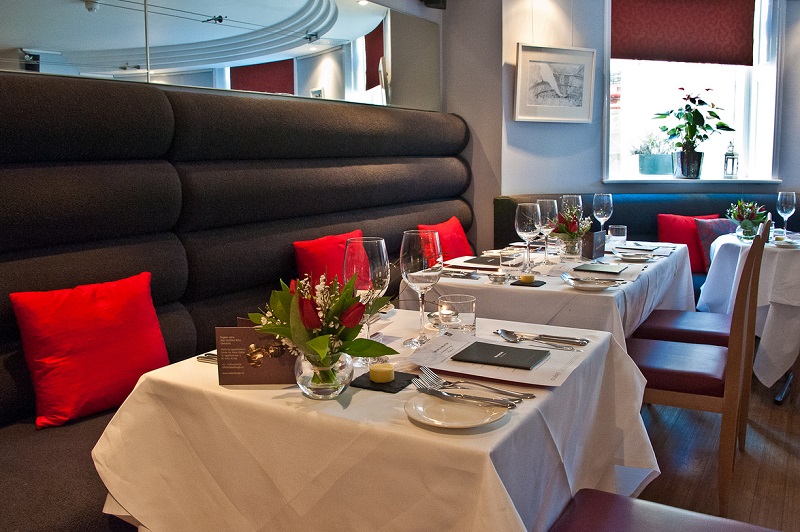 Modern European
Recommended by the Michelin guide, this luxurious boutique hotel offers an intimate private dining room for 12 – often used for breakfast meetings due to its handy IT equipment or the main restaurant where an exclusive takeover can host up to 40 guests. Food and wine matchings, bespoke menus and dinner and room packages are all available on request. Groups can also make use of the fabulous cocktail bar for pre and post drinks.
Market Restaurant and Bar, Brighton
Modern European
This acclaimed foodie destination offers The Regency Room for 24 guests below the main restaurant with the ability to be split into bar and dining area. The restaurant can also be hired for exclusive use for up to 50 guests.
Parsons, Essex
Modern European
Set by the striking Abbey Gardens of Waltham Abbey, this relaxed yet stylish restaurant has two private rooms, the Abbey Room for 40 and the Waltham Room for an intimate 12. The main restaurant can also be hired exclusively for 60 and in the summer the terrace outside can host al fresco lunches and dinners. Canapé and buffet menus are available in addition to two and three course set menus.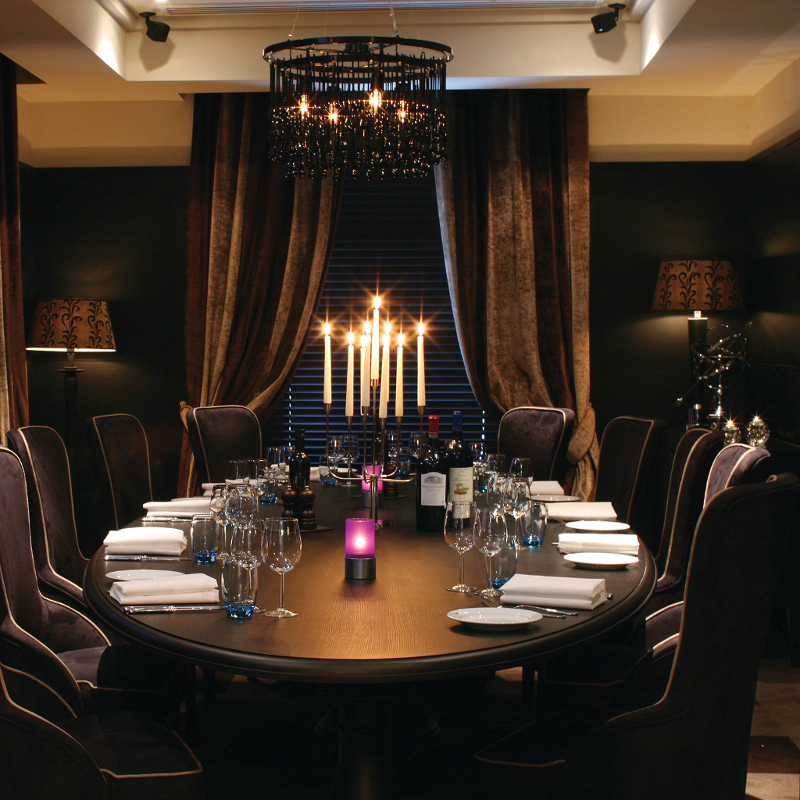 Malmaison – Reading /Oxford
This brilliantly popular hotel brand has two venues within easy reach of London, both of which have private rooms.
Oxford's offer is fabulously unique – set in a former castle and prison, four private rooms are in converted cells, hosting 16-35 guests. For larger gatherings The Atrium is ideal for seated events up to 140, the Visitor's Room for 100 standing, and the Roof Top Terrace can host up to 150 for standing receptions.
Reading is a former station hotel, so ideally situated for transport to and from London. Its private rooms Mal 1 and Mal 2 seat 24 and 16 respectively.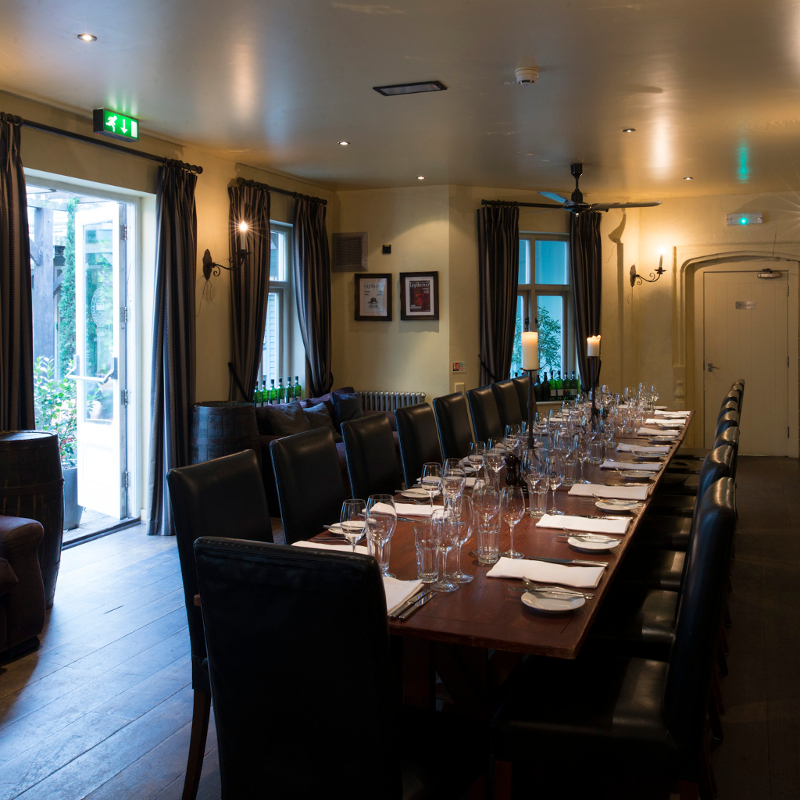 Hotel Du Vin – Henley/Cheltenham/Winchester/Bristol/Brighton
Another classic chain that doesn't feel like a chain, the Hotel Du Vin brand has no less than five hotels within two hours of London, all with private rooms.
Henley – has three private rooms catering for between 40 and 100. The Canata Room has striking beams and a mezzanine level, while the Ruinart room has a stunning original mural.
Cheltenham – has two function rooms for 16 and 22 as well as the Sinners Enclosure, with a fabulous fireplace and space for 36.
Winchester – the original HdV, the hotel also has a Ruinart private dining room, seats 48, with lovely French windows opening out onto the gardens.
Bristol – The restored Sugar house features four private rooms, the Lanson for just 12, Le Pin for 36, The Balfour for 72 and Christie's Library for standing receptions of up to 100.
Brighton – has five private rooms ranging in size from 10 in the Captain's Table to 84 in the Dome Ballroom, or 120 for a standing reception.