Sep 8, 2017
The Best Private Dining Rooms In London
Right. We're going to stick our necks out & say it… London has the best private dining rooms in the world. We reckon this great city is home to the best venues and finest gastronomy on the globe – and we should know – after years & years of writing about and working with London venues, they just keep getting better, more creative, more seasonal, better sourced and now define international trends and guest expectations.
The Capital has everything from Michelin starred restaurants, great gastro-grub and brilliant brasserie dining – and so many now have fabulous private rooms with venues realising that guests increasingly want a private or semi-private space to enjoy special events, work do's and celebrations.
Then there's the variety of cuisine… so whether you fancy Modern British fare, a Mediterranean meze, Japanese sushi, Peruvian, Indian banquet or classic French gastronomy, London's got it all!
So here's our run down of the best private rooms in London – truly the best of the best!
Soho & Covent Garden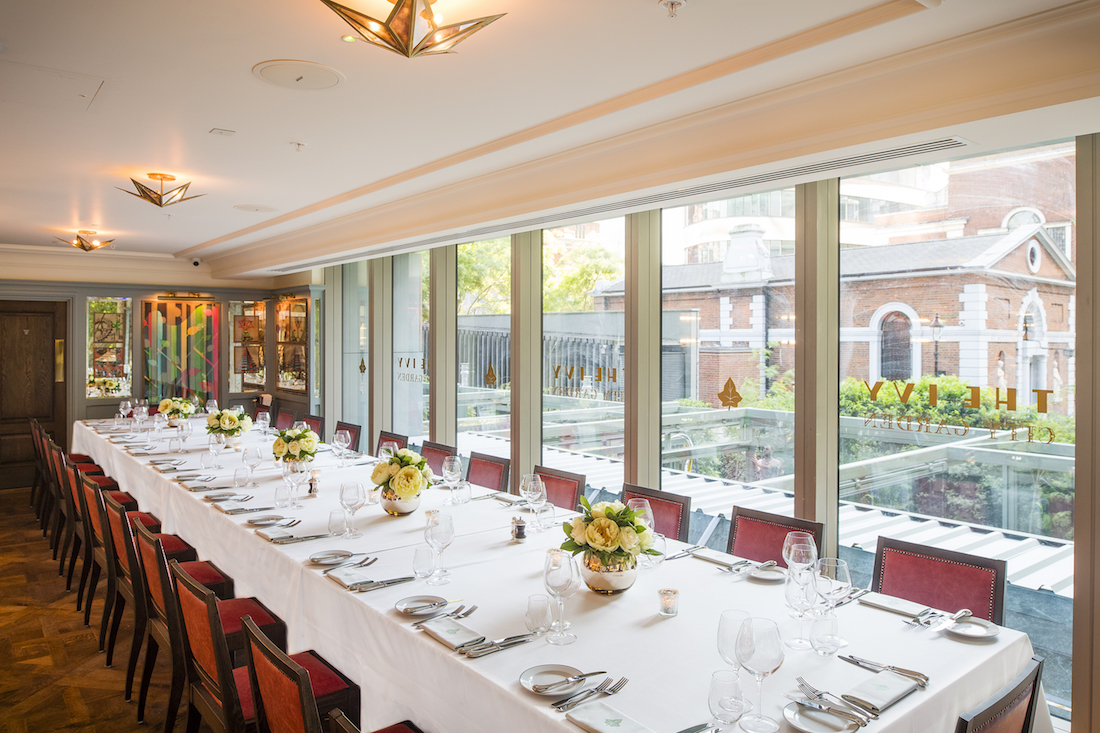 Just the harlequin stained glass windows & oak panelling alone make The Ivy feel special, let alone the recent Martin Brudnizki designed refurbishment, which sympathetically brings this iconic Soho establishment stylishly up to date, whilst retaining all of its old-school charm. With first floor private dining for up to 60 and its impeccable modern British cuisine, the room is ideal for wedding receptions, product launches and parties to remember – as well as breakfast meetings – their full English's are legendary.
With a 'press for champagne' button at every table, this uniquely luxurious British meets Russian establishment epitomises elegance and decadence. Classic dishes from both countries are reinvented using the finest ingredients for the ultimate fine dining experience. It's all-booth David Collins design is translated in the Royal Dining Carriage private room which has space for between 10 – 16 guests.
The Delaunay boasts two stunning wood panelled private rooms on the first floor that are flooded with natural daylight. The Corner Room for 8 guests and the Kean Room for 14 can be combined to host a larger party of up to 24, with room for a standing reception outside that has views over the main restaurant below. The seasonally changing menu follows the European Grand Café tradition, and it's useful to know there's no room hire – just a variable minimum spend.
Dehesa
Discretion is the key at this subterranean hideaway for up to 12 guests. Dehesa's private room boasts its own private entrance down to a solid oak table, a Murano glass chandelier and views into the wine cellar. This buzzy and award-winning modern tapas restaurant offers private dining guests a la carte and set menus as well as large sharing meals such as rack of Iberico pork (ordered in advance) for true Spanish family style dining.
Basking in its prime location next to Covent Garden's famous piazza, the Market Grill carries the Ivy brand with a light touch. The Pygmalian and Galatea private rooms seat 40 and 24 respectively and are ideal for client entertaining with a wow factor – especially for guests visiting the city – as well as private breakfasts, lunches and dinner parties for parties who just want to enjoy the Ivy's fabulous brand of modern British comfort food and international dishes.
Spring
The new wing of Somerset House boasts a unique private dining room in The Salon: an all-weather garden room in an enclosed atrium for between 12- 36 guests, while the main restaurant can host up to 100 for a seated event or 200 for a standing reception as an exclusive hire. With the legendary Sky Gyngell at the pass, guests can enjoy her definitive and individual style of fresh, seasonal and beautifully unfussy cuisine much of which comes carefully sourced from Fern Verrow biodynamic farm. There's a £1,000 room hire charge for the Salon, while parties under 12 guests can choose from the a la carte.
Mayfair & South Kensington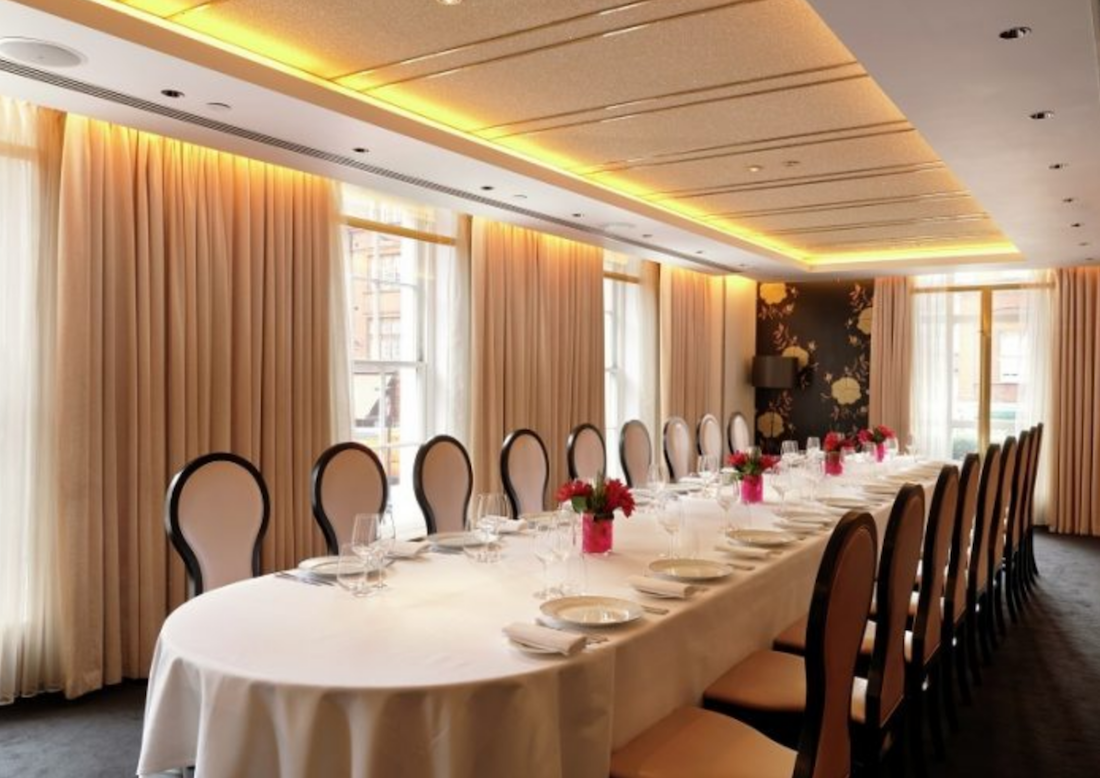 Maze
Whether it's a chef's dining table, a business meeting or private dinner, Gordon Ramsay's Michelin acclaimed restaurant has five private dining options that are perfect for a variety of very different occasions. The Hampton and Somerton rooms within the main hotel host 40 each or can be used together for a reception followed by dinner or a meeting with breakout room. Also in the hotel, The Dalby room is ideal for discrete meetings and dining for up to 10. In the main restaurant, Maze View for 12 guests is an elegant semi-private space with a large window into the kitchen, while the Kitchen Table (for 7) is located in situ and offers guests an opportunity to talk to the chefs and even cook some dishes. All rooms enjoy the Ramsay catering touch, which at Maze offers a fabulous mix of modern French and Asian cuisine.
Think Shanghai in the 1930's and this fabulous art deco style is found in the middle of the Dorchester Hotel. With three private rooms – Ping, Pang and Pong, the rooms can be hired individually, as a duo or altogether for between 18 – 180 guests. Offering some of the finest authentic and traditional Cantonese dishes in London, China Tang is also known for its extensive and exquisite Dim Sum menu, amazingly unique cocktails and occasional jazz evenings.
Beautifully decorated and now owned by Midas-touch restaurateurs Caprice Holdings, Scott's is still renowned for serving classically decadent and impeccably sourced fish, seafood and seasonal game in luxuriously art-deco influenced surrounds. The Private Dining Room seats 40 guests or 50 for a standing reception.
This Michelin-starred fine dining venue offers two glamourous gold encrusted private vaults with banquette seating for parties of up to 9 or 14 guests. Serving fabulous contemporary Indian cuisine, there's a strong emphasis on platters and sharing dishes. A range of set menus is available although guests can also arrange a bespoke menu and wine pairing on request.
Marylebone and Paddington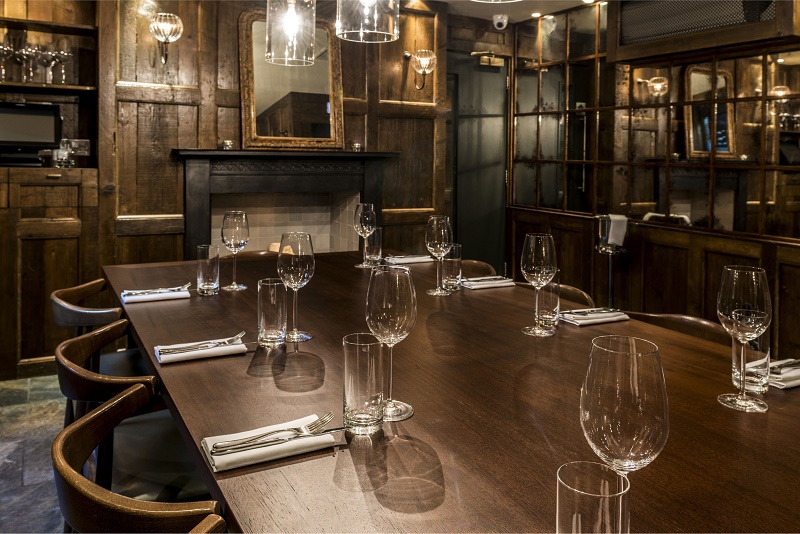 In the heart of Marylebone Village, the Michelin starred Trishna offers stunning contemporary coastal Indian cuisine. With fresh and light interiors, complemented by antique-chic furniture, the private dining room on the lower ground floor seats up to 12 guests and overlooks the wine cellar. An ideal room for wine lovers as Trishna is known for its extensive list compiled from small independent wineries around the world. Exclusive hire of the main restaurant is also available for up to 60 guests.
Texture
In a stunningly restored Georgian building just behind Oxford Street, this Michelin-starred modern European with Skandi influence restaurant has become a cultural icon under the direction of Icelandic head chef Aggi Sverrisson. Tolli, its private room for 16, offers discrete dining for business events or standing receptions, with wine tastings and even a 'surprise menu' available for guests.
Responsible for reviving bistro appeal, Galvin's original Bistrot (spelt the authentic French way!) still delivers a wonderfully relaxed, welcoming gastronomic experience. With two private rooms, Le Salon Prive in the heart of the restaurant is separated by a glass partition to offer a quasi-private dining experience for up to 12, while Le Cellar below hosts a bar and can seat up to 22 guests. With traditional French food à la Galvin, classics are given a sympathetic yet modern makeover, while still retaining their timeless appeal.
Home House
A plethora of private rooms are available even for non-members of this iconic club from the remodelled basement wine cellars that now feature bars, karaoke stages and more, to the Zaha Hadid-designed champagne bar at Number 21 and impressive Georgian shabby-chic styled rooms for larger parties, there's also the option to have a Winter Marquee in the central courtyard – ideal for wedding receptions – whatever the weather. With capacity for events from 18 – 300 guests, Home House's varying styles ensure enduring appeal alongside a modern European menu.
The City & Shoreditch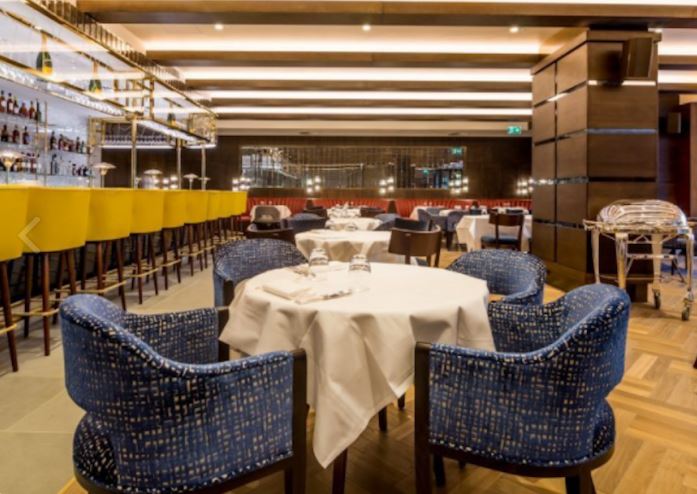 Devonshire Terrace
Billed as the City's best kept secret and just five minutes from Liverpool Street this fabulous space boasts four private dining rooms as well as two balconies in a courtyard terrace, one of which is covered by a high glass roof. Serving modern British food using mostly British ingredients, this spacious venue is great for City parties and celebrations and is also ideal for hosting weddings at weekends. With capacity for up to 160 seated or 400 standing, we agree it really is a hidden City gem.
The Don Restaurant and Bistro
We love a vault and The Don's is no exception. Linked with The Sandeman private room, it can host up to 52 guests for a seated event, while the various other private rooms in The Don and its sister restaurant The Sign of The Don, can host between 12 and 150 guests,including wedding receptions and corporate entertaining. With its own award-winning winery in New Zealand, it's no surprise there's a fabulous wine list to accompany their modern European menus.
HKK
HKK is the latest from the iconic Michelin-starred Hakkasan Group. Defining modern Chinese and Cantonese cuisine for a new generation, HKK offers a selection of set menus and tasting menus for lunch and dinner and can also create bespoke menus on request. The private dining room for just 14 has views of the kitchen and the Peking duck oven as well as a sliding glass screen for added privacy.
Smiths of Smithfield
With three floors of private dining options, Smiths can host small to very large events. The Skyline and Market rooms connect to the SOS Craft Market bar and can seat 24 individually or 140 as the whole floor. Up a level and the 2nd floor dining room seats 130, while the top floor and terrace can host 90 guests. With sharing board starters and impeccably sourced and cooked meat the main event, add ons reflect the genre with a Beef Breakdown or Cocktail Making Classes on offer. (fish & vegetarian menus are also available).
Three different and distinctly decorated restaurants within the Bleeding Heart Yard are linked by a timelessly quaint cobbled courtyard. The Bistro, Bleeding Heart French Restaurant and British Tavern all offer eclectic and impressive private dining rooms. Between them, they can host parties and events for between 16 – in the Parlour at Number 7, to 120 – in the stunningly atmospheric Crypt in the church beyond the Yard. The Wine Cellar seats 28, while The Red Room and The Terrace both 40) – all with their corresponding restaurant's menus.
ONE OF EACH OF THE 'BURBs
East London: Bistrotheque, Bethnal Green
Striking whitewashed walls house this versatile private room which can be used in its entirety for up to 100 or divided to create two distinct spaces for 40 – 60 guests. The room is self-contained and comes complete with its own bar and kitchen, sound system, washrooms and 1930s walnut baby grand piano. Modern French menus are beautifully presented using the freshest seasonal ingredients.
West London: The Petersham, Richmond
A perfect small wedding venue, The River Room enjoys stunning views of both the river and Petersham meadows and can seat 38 or 60 standing, while The Terrace can host 26 and The Cellar 20. Exclusive hire of the restaurant is also possible for up to 90 guests to enjoy the talented chef's modern British menu featuring the best seasonal produce.
North London: Fredericks, Islington
This family run modern European-leaning north London institution boasts a secret terrace garden conservatory as part of The Club Room, which can seat up to 40 guests, while the Clarence Room can host 30. The venue holds a civil partnership license and is often used for receptions, as well as corporate functions – equipped as it is with a 75" plasma TV.
South London: The River Café, Fulham
This Ruth Rogers and the late Rose Gray concept boasts a versatile gem of a private room, with an outside terrace that's perfect for receptions and in-house fromagerie where foodies can salivate over cheeses. The room seats 18 and charges its menu by the course, with all events starting with its trademark beautiful Italian antipasti to share. There's no room hire, just a minimum spend and there's a discount available if more than 10 River Café cookbooks are bought for an event.