Daniel Kent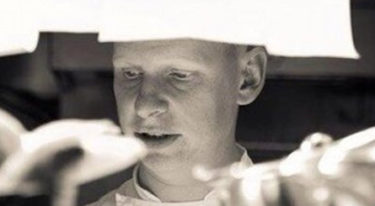 How long have you been at the restaurant?
In comparison to the restaurant, not that long; 2 years and 9 months – it has been running for 211 years!
Which was the first restaurant you worked in?
In London, coming out of university, it was Kensington Place under Rowley Leigh. A bastion of good seasonal cooking. I saw so much and learnt an incredible amount from that kitchen. It was a really great experience; Rowley just imparts so much knowledge.
What was the last London restaurant you went to, apart from your own?
I went to Thee Eight Four on Coldharbour Lane, Brixton with a friend for lunch, great fun.
What or who has been the biggest influence on the way you cook and why?
What is Wiltons and the ability to get the finest products in the UK from the oysters to the game we put on the menu in season. We have an array of producers who we can go to or who come to us with the greatest showcase of fish, meat, vegetables and cheese that the UK has to offer. It makes me really proud and excited that we can work with these products, enhance them and share them with our guests in the great restaurant that Wiltons has become. As to who… my Aunty for showing me the products we had around us in the Yorkshire Dales and just how to have a great family meal. I think that has stuck with me; we are here to help the guest have a great dinner with family and friends as the hosts.
What is your personal signature dish?
I cannot claim to have one as I don't think I am here as an artist for people to prescribe to me. I think I am a craftsman who just wants the ingredients to shine through.
Which other chef(s) do you most admire?
My team for putting up with me and supporting me! Thomas Keller, Marcus Wareing, Rowley Leigh, Rick Stein, Chris Galvin.
What's the best part of your job?
Have a dish in front of you that you can look at and say, 'Job Done.'
And the worst?
Having a dish come back as the guests does not like it; you know you have let them down.
What would your last meal be?
Cep risotto and a bloody good Chianti.
Do you have a chef's shortcut that you can share with us?
This is Wiltons, we don't do short cuts!