Aug 17, 2017
Private Dining Rooms at London Restaurants in the Good Food Guide 2018
The latest in our guides to the best private dining rooms in London features the thirteen London restaurants included in the The Top 50 Restaurants In The United Kingdom according to The Good Food Guide 2018.
Of these 13 highly rated London restaurants a large number have private dining rooms for events.
In descending order we list the private dining rooms at the thirteen London restaurants featured in the guide.
Pollen Street Social, Mayfair

Ranked 3rd best restaurant in the UK and acknowledged with a Michelin star, Pollen Street Social is Jason Atherton's flagship restaurant.
The private dining room at Pollen Street Social has views into the development kitchen and seats up to 12 guests.
Hedone, Chiswick
7th on the list comes Hedone was opened to great acclaim in 2011 by Mikael Jonsson and continues to receive plaudits for its consistently original cuisine. The restaurant has a downstairs private dining room.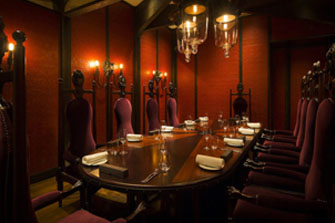 Coming in at 13th best UK restaurant is Heston Blumenthal's restaurant at Mandarin Oriental Hyde Park Hotel in Knightsbridge. Serving the legendary chef's unique take on historic British cuisine, Dinner by Heston Blumenthal has two exclusive private rooms. The main private dining room seats up to 12 and The Chef's Table accommodates up to 6 seated guests.
Marcus, Knightsbridge
At 15th is Marcus Wareing's eponymous Marcus restaurant at The Berkeley in Knightsbridge has two Michelin stars. The restaurant has two private dining rooms; The Chef's Table seats up to 10 guests with The Salon accommodating up to 16 seated guests.
Ranked 21st best restaurant in the UK by the Good Food Guide, Alain Ducasse at The Dorchester has a selection of private dining rooms available for events. The Table Lumière – so named for its extraordinary backdrop of of 4.500 fibre optics – seats up to seven and the two larger rooms, Salon Privé and Salon Park Lane respectively seat 12 and 24 guests.
Three places below at 24th best UK restaurant according to the guide is Pierre Gagnaire & Mourad Mazouz's Michelin starred Sketch in Conduit Street, Mayfair. With both rooms boasting quite extraordinary interiors, the Lecture Room & Library seats up to 40 guests with The Library providing semi-private dining space for up to 16 seated guests.
The Greenhouse, Mayfair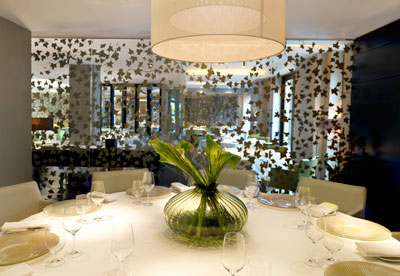 Serving exceptional French cuisine and with a wine list highly rated by restaurant critics, The Greenhouse is rated 27th best restaurant by The Good Food Guide and is available for exclusive hire for private dining lunch & dinner events.
The Ritz, Piccadilly
Rated 28th best restaurant, The Ritz in Piccadilly has six private dining rooms available to hire for special lunches and dinners.
Restaurant Marianne, Notting Hill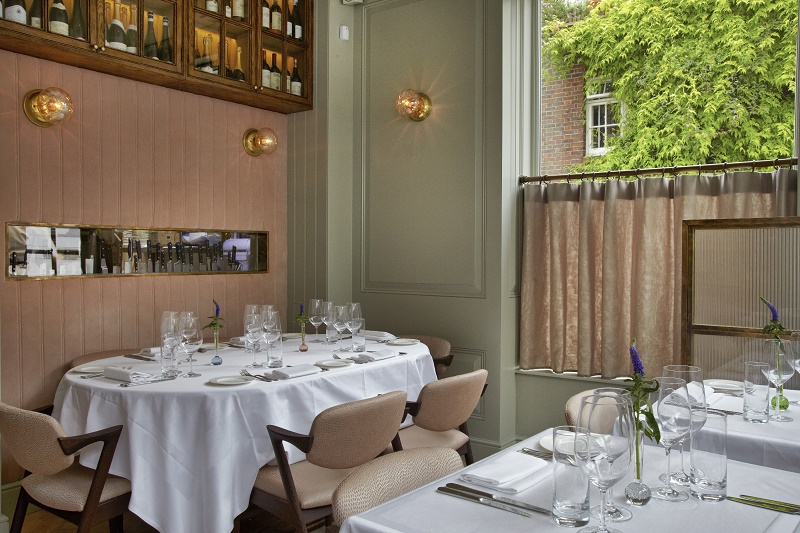 Just five spaces below on the list at 33rd best UK restaurant comes Restaurant Marianne in Notting Hill, opened by Chef Marianne Lumb in October 2013. This popular Notting Hill restaurant is available for exclusive hire and seats up to 16 private dining guests for lunches and dinners.
Tom Sellars' Restaurant Story opened in April 2013 and gained its first Michelin star within five months of opening. Located in Tooley Street, just minutes over the river from The City & close to Tower Bridge, Restaurant Story is available for exclusive hire for up to 40 private dining guests.
Murano, Mayfair
At 48th in the Good Food Guide Top 50 Restaurants is Angela Hartnett's Murano restaurant in Mayfair. The private dining room at Murano has a retractable glass wall & window allowing guests to see the action of the kitchen and seats up to 12 guests.