Jun 20, 2017
Discover Private Dining Rooms In London For 30 – 40 Guests
Private events of this size are often very special personal or business occasions and, as such, still small enough to need to feel intimate. Whether we're talking birthday bash, leaving do or corporate entertaining, these restaurants have fabulous private spaces within their wider restaurants that know how to provide guests with just that experience.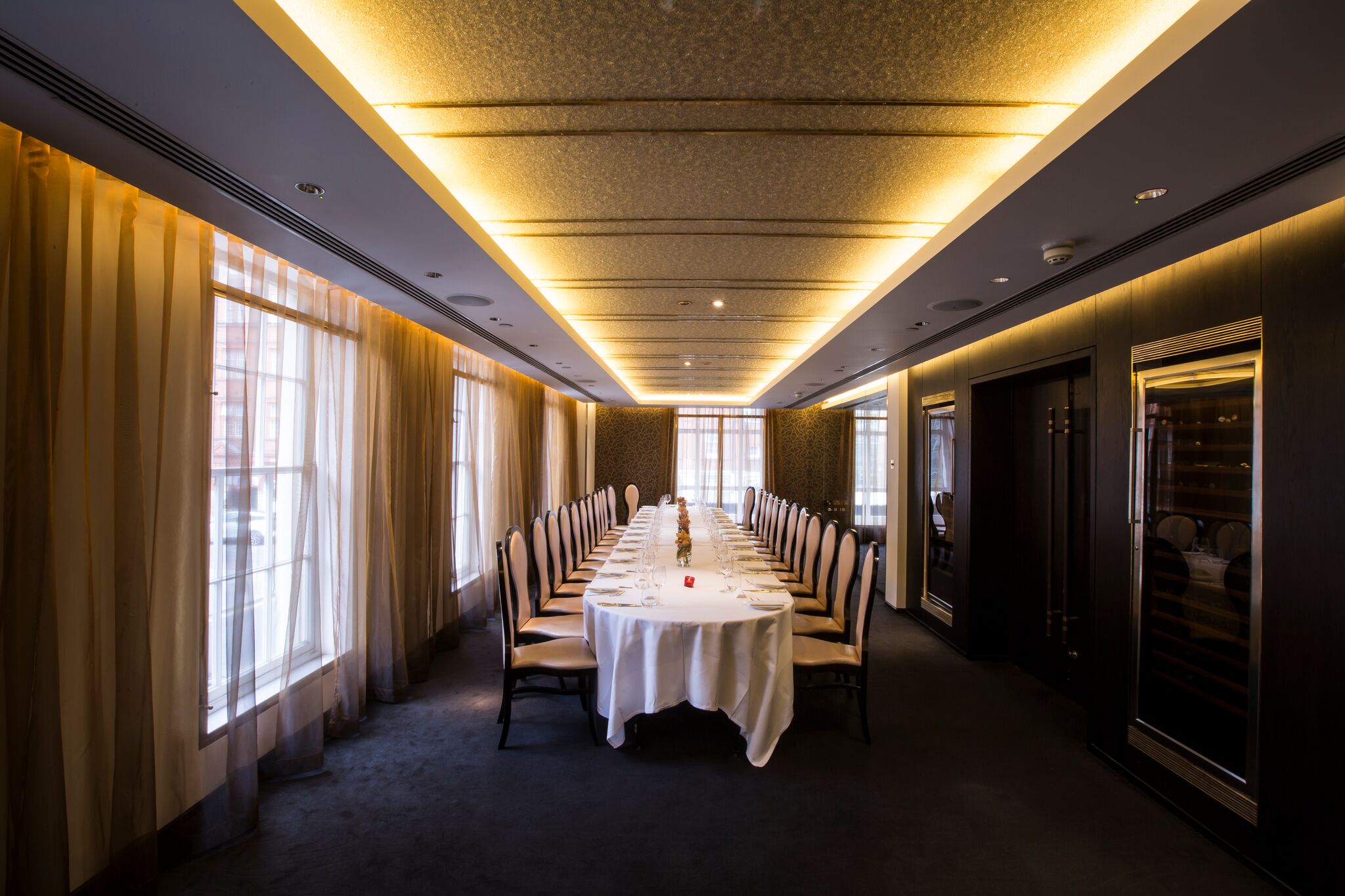 Celebrity Chef Restaurants with private rooms
There are many different dining options at Gordon Ramsay's Maze, from steak parties at the Butchers Block to Asian fusion at Maze View but there are also two lesser known private rooms within the main hotel that are catered by the Gordon Ramsay crew. The Somerton and Hampton rooms are directly above one another and both seat up to 40 on round tables (32 on one long table). Elegantly decorated in creamy gold they are a great canvas on which to create any kind of event from a simple meeting (days rates start at just £45 per person) to wedding receptions and discrete birthday celebrations.
For clean lines and Danish chic, Anna Hansen's Modern Pantry in Clerkenwell provides the perfect backdrop. Within a Grade II listed townhouse, the white décor gives the private rooms a truly modern feel. The South Dining Room can host 40 guests on four tables (22 on one large) and it's worth knowing that all set menus include complimentary still and sparkling water and home-made breads.
Inspired by acclaimed British chef Tom Sellers, Restaurant Story got its first Michelin star just months after opening in 2013. Exclusive takeovers of this unusual space for up to 40 guests can be hosted six days a week and of course menus feature all the produce one would expect from such a pioneer of seasonal British produce, as well as championing British craft ales and an exclusively compiled wine list.
Art Deco
Reopened in 2015 under the direction of midas-touch restaurant group Caprice Holdings, Scott's is enjoying a much-needed renaissance. The British fish, seafood and game specialists in the heart of Mayfair offer a luxuriously styled art-deco influenced private room for up to 40 guests. The perfect venue for decadent birthday and anniversary celebrations or wowing some key clients.
Another art deco styled Caprice Holdings gem and another private room for 40, but this time at The Ivy Soho Brasserie. With all the caché of the Ivy brand this beautifully Martin Brudnizki designed room is a stunning space with marble flooring, pendant lighting and its own bar and cocktails to really go to town with.
Best kept secrets
The other side of Mayfair, Hush boasts Blades, a fabulous white and silver room adjacent to its main bar. Ideal for baby showers, afternoon teas and anniversary or birthday celebrations, it's the perfect secret spot with space for up to 32. The better known top floor private room is more like a suite – with its own cloakroom, loos and kitchen, it can also seat up to 40 on rectangular tables (or 60 max).
Another top tip is the second floor private dining room at Bird of Smithfield, which seats 40 guests for meetings, breakfast, lunch and dinner. There's a sofa area ideal for break-out chats or pre-dinner drinks receptions or post-dinner digestifs and a 'chef window' where guests can watch the British organic produce being cooked to perfection.
Royal Thames Yacht Club has a multitude of private rooms and is perhaps best known for being able to hold large events of up to 200 guests but it's often not known that it has several other smaller rooms available for separate hire. The Paget Room can host 45 standing, the Queensborough Room 30 standing, the Edinburgh Room 36 seated (50 standing) and the East End Room 36 seated (45 standing). Ideal for all manner of receptions as well as elegant breakfasts, lavish lunches and sumptuous dinners, this club is timeless and one of a kind.
Wild Cards – Private Rooms That Are A Little Bit Different
St James's wine merchants Berry Bros. & Rudd are so much more than just an iconic wine shop – with warren-like corridors leading down into vast ancient cellars and intimate Nina Campbell designed rooms that are all available for private events. But the new multi-million pound development of the dual-level Sussex Cellar for 40 guests provides an even bigger 'wow' factor – with an upper level ideal for mingling and pre-dinner receptions (and acoustics specially designed for tutored group wine tastings), the dining room below is a stunningly modern room that's simultaneously cosy yet striking.
And then there's Sketch – a wild card and celebrity chef in one! The crazy wackiness of Pierre Gagniere's iconic restaurant never fades – from the pod loos to the private rooms. The Glade, one of four totally unique private areas within the restaurant, seats a comfortable 32 and feels like a trip into a woodland, erm well, glade – see what they did there? – while Pierre Gagniere's exceptional culinary skills will always put a dash of magic into the evening.
Explore our exciting range of Private Dining Rooms in London for 30 and 40 guests, today!