Mar 15, 2023
Private Dining In London Docklands Aboard A Luxury Hotel Yacht
London Docklands, located just a few miles east of the City of London and easily reached within 15 minutes from The City via Docklands Railway London (DLR), is an internationally renowned financial district. As might be imagined, the area has a high demand for private dining rooms for business breakfasts, lunches, dinners and celebration events. In this article, we spotlight one of the most unique venues in Docklands for group dining events; the totally unique Sunborn London hotel.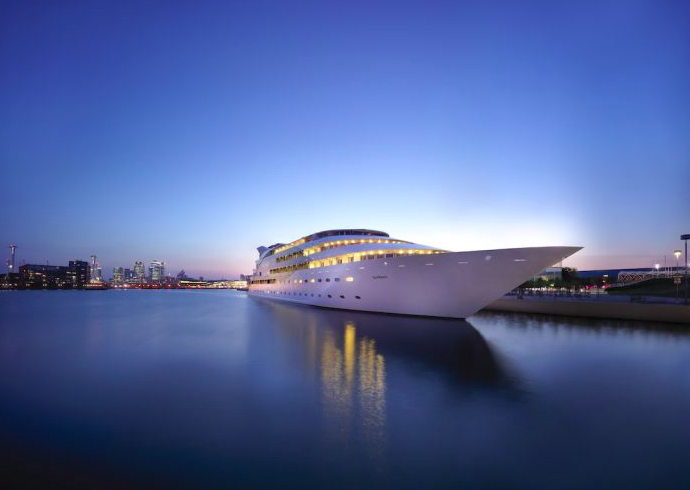 Superyacht Private Dining In East London
Sunborn London is a luxury yacht hotel permanently moored at Royal Victoria Dock. Its close proximity to ExCel London makes Sunborn London an ideal venue for both large functions and intimate private gatherings in Docklands.
The private dining event spaces at Sunborn London each have their own character, features, and unrivalled views and demonstrate how Sunborn London is reimagining what private dining rooms in London can be. Step on board the UK's only luxury super yacht hotel for a truly unique group dining experience.
This unique and exclusive superyacht hotel boasts an impressive array of spaces, with every one sure to tick each and every box. Whether you require a dining space for a handful of friends, a private party, a business meeting or a banquet of two hundred seated guests, we have everything you need in order to make your private dining event something truly unforgettable.
From the hotel's East and West India Docks – with space for forty seated diners – to the magnificent Deck Four, where two hundred and fifty guests can enjoy our extensive menu, you'll find something to fit your needs, budget, and taste.
As the sun sets over London's historic docklands, diners at Sunborn London are treated to peerless views of the city's lights, flickering gently across the water.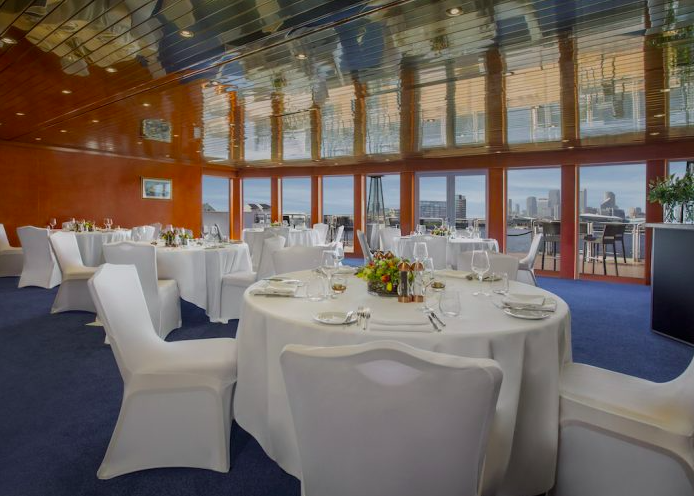 Private Dining at Sunborn London
The private dining event spaces available at Sunborn London are as follows:
The Sky Lounge: 50 seated, 100 standing; Room hire from £1,500
East India Dock: 40 seated, 50 standing; Room hire from £750
West India Dock 1: 40 seated, 50 standing; Room hire from £500
West India Dock 2: 40 seated, 50 standing; Room hire from £500
West India Dock: 80 seated, 150 standing; Room hire from £1,000
Restaurant Exclusive Hire: 120 seated, 150 standing; Minimum spend from £8,000
Open Plan – Deck 4: 200 seated, 250 standing; Minimum spend from £15,000
Sundown Bar: 130 seated, 200 standing; Minimum spend from £15,000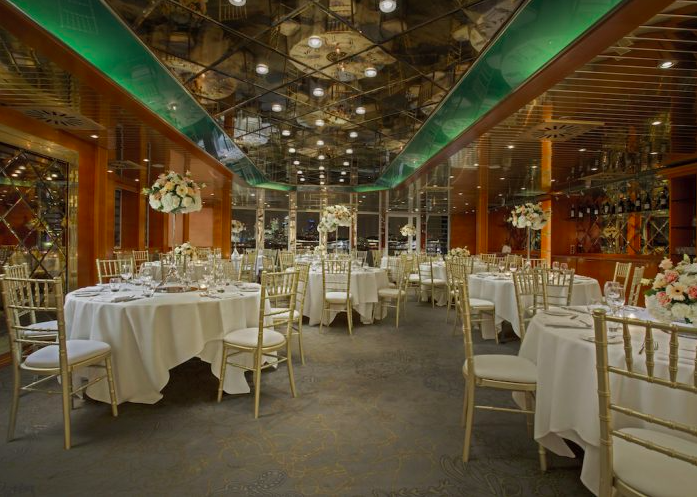 Cuisine at Sunborn London
Sunborn London's Executive Head Chef has created a menu highlighting world-class British ingredients combined with Mediterranean, Asian, and other international influences. The focus on creativity, flair, and the artistry of contemporary British cuisine ensures a sensory journey for guests.
Dining at Sunborn London is more than just enjoying well-crafted dishes in a luxurious setting; it's about providing an extraordinary gastronomic experience with exceptional service.
The hotel is located at Royal Victoria Dock, London E16 1AA. and is perfect for those seeking a unique and elegant venue for a private dining event in London, whether it's for a business meeting, intimate gathering or large celebration.