Jose Godoy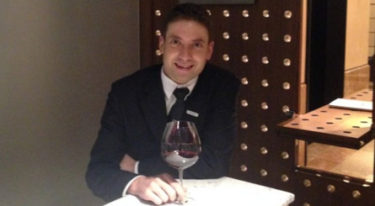 How long have you been at the restaurant?
Since we opened in March 2013.
What attracted you to become a sommelier?
To enhance complete my skills into the hospitality industry.
Where did you do your training?
In Marbella I completed the Sommelier Course on a full time basis and then 3 years in La Rioja, including level 3 of WSET.
What would you say were the essential skills required to be a sommelier?
A tireless inquisitiveness, good psychology to reach guests needs and an appropriate management of the cellar.
What wines complement your personal favourite three course meal and why?
Old Sherry Amontillado for Appetiser and Starters, Burgundy or Champagne for the Main Course and a Canadian Icewine for desserts. Sherry as they are one of the most complex wines in the world as well as probably the best value in the world, Burgundy or Champagne because beside the top quality they offer, they are incredibly versatile.
What are your thoughts on the 'Red wine with red meat, white wine with white meat and fish' age-old debate?
It is gone. I think the debate is not longer going on. White wines aged in oak can perfectly matching with many meats and light reds can do the same with heavy fishes.
How does the choice of the right wines complement the different food courses served?
The wines can enhance the flavours. That is how the wines should complement the food.
What's the best part of your job?
Try to let my guests discover new sensations.
And the worst?
There is nothing bad about this job.
What is the unusual wine that you have ever tasted and why?
A sweet Pedro Ximenez from Montilla-Moriles from the vintage 1910. It was like having in my palate the whole 20th Century.
What is the most money that you've ever seen spent on a single bottle?
Around £4,000 in a bottle of Krug Clos d'Ambonnay.
How many wines do you have?
Around 200.