Gino Nardella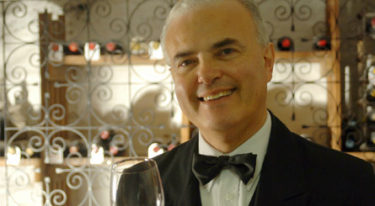 How long have you been at the restaurant?
For a long time.
What attracted you to become a sommelier?
Viticulture and later love for wine.
Where did you do your training?
Italy, Bordeaux, Burgundy, Languedoc and UK.
What would you say were the essential skills required to be a sommelier?
A vocational passion, humility and no arrogance.
What wines complement your personal favourite three course meal and why?
There have been so many memorable food and wine matching combinations that it's impossible to list them all but I admit I have a weakness for Sherries and white & red Burgundies.
What are your thoughts on the 'Red wine with red meat, white wine with white meat and fish' age-old debate?
Always drink the wine you like and don't forget to order the food that you like too!
How does the choice of the right wines complement the different food courses served?
There are no rules, but selecting the right wines will not only enhance each course, it will enhance the wine too.
What's the best part of your job?
Travelling and meeting the people responsible for some of the best wines in the world.
And the worst?
Having to taste them all…….
What is the most unusual wine that you have ever tasted and why?
A 200 year old bottle of wine salvaged from a shipwreck. Unfortunately, the wine didn't survive the journey.
What is the most money that you've ever seen spent on a single bottle?
A few thousand pounds.
How many wines do you have?
Around six hundred.
How often do you find that customers complain about wine being corked and – in your opinion – how often do you think that they are right?
Not very often, but I rather keep my client happy and bring another bottle.