Andrew Dubosz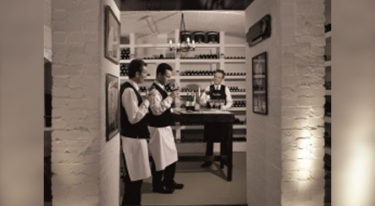 How long have you been at the restaurant?
Just over 20 years.
What attracted you to become a sommelier?
Good nose for the wine. Wine is a very interesting and big subject. It's like travelling from one part of the world to another.
Where did you do your training?
I passed my exams at The Petersham, with distinction.  I also travelled to France and Italy and attended numerous big wine tastings in London. Nick Hillman, our wine supplier, helped me a great deal too.
What would you say were the essential skills required to be a sommelier?
Ability to communicate easily with guests, knowing and understanding their requirements to complement their meal.
What wines complement your personal favourite three course meal and why?
I personally don't have a favourite 3-course meal. When choosing wine in the restaurant for our guests, I often tend to go for something new, possibly never tried before.
What are your thoughts on the 'Red wine with red meat, white wine with white meat and fish' age-old debate?
Very popular indeed. Remember, it's your own palate that you have to please.
How does the choice of the right wines complement the different food courses served?
Indeed, we are looking here for some harmony and general rule applies that the fuller, richer food requires fuller bodied wine.
What's the best part of your job?
Each time finding out from guests about their satisfaction from my advice as well as recommendations.
And the worst?
I am very passionate about my job and wish I could travel more to discover wine producers from various parts of the globe.
What is the unusual wine that you have ever tasted and why?
Chateau Batailley 1966 from Pouillac – soft excellent fruit and refined tannins.
What is the most money that you've ever seen spent on a single bottle?
Chateau Haut Brion 1988 – £395.
How many wines do you have?
At The Petersham Hotel we have 160 different wines and hold around 4,000 bottles in our cellars.
How often do you find that customers complain about wine being corked and – in your opinion – how often do you think that they are right?
On average we come across one bottle a month that is corked. We are always happy to replace it with another one and make sure the guest is satisfied.