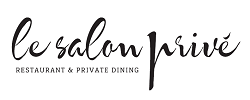 Le Salon Privé
£50+ per person
I'd like to book this restaurant:
Close
Thank you for your interest in Le Salon Privé!
Here are your booking requirements:
For more information regarding availability and prices please call
020 7205 7563
Alternatively, simply fill in your name, email address and phone number in the form below and we will call you back to confirm.
Le Salon Privé is an elegant French restaurant, located in the heart of St Margarets, near Marble Hill House, River Thames, Orleans House Gallery, Twickenham Stadium and York House.
The building was built in the 1840s and has lots of features such as the two big stained windows in the main dining area, which is blessed with lots of natural lights. It feels like being in Paris or a delightful club like ambience with crisp linen, well set covers.
There is a small private room called "The Poirot Room" which is very cosy and can sit 8 people comfortably or up to 10 people.  It has some old pictures of David Suchet as Inspector Poirot which was filmed in the restaurant in September 1988 when it was called Hamiltons. The room is dressed with a beautiful big wooden table made from wooden French wine boxes. It is draped with a beautiful curtain to make it complete private if desired.  It feels like home as it has soft lighting, carpet and curtains.
There is a beautiful staircase leading to our private dining room which has lots of French charms from lovely wall panelling, lots of mirrors, fireplace and its own bar.  It has the same feel like the Poirot room, as if you are in your living room with good friends and families, sharing delicious classic French dishes and wines in a spacious big room. The room is perfect for any special celebrations and can accommodate from 14 people over one table to 30 people over three tables.
The ground floor can also be private and can sit up to 45 people.
The whole restaurant can also be hired as a private venue.  It can sit up to 85 people.
Gallery