Mar 23, 2017
Private Dining Rooms In London With Wedding Licenses
As a dyed in the wool Londoner who got married in what is now Brasserie Zedel, I'm a big fan of the Capital's fine dining restaurants, hotels and curious venues to host an alternative marriage ceremony. With peak wedding season on the horizon, here's our 22 top London venues with wedding licenses.
Restaurants & Pubs
Frederick's – This family run restaurant is an Islington classic and local favourite – the conservatory and sheltered garden at the back is only part of its enduring appeal. The conservatory can be hired for between 45 – 80 guests (seated), while the whole venue hired exclusively can cater for up to 120 seated or 200 for a standing reception.
The Princess Victoria in Shepherd's Bush – for a high glamour gastro pub with an intimate feel and culinary standards that go above and beyond your average do, they can cater for receptions of up to 64 (seated) in the 'room upstairs'.
The Gallery Room at King's Place – Many of the rooms have licenses for civil partnerships. Rotunda can be hired for exclusive use and we particularly love the terrace on the canal – brides can even arrive by boat! It's ideally sheltered, yet features great urban views and is lovely if you're lucky enough to get a spot of sunshine!
Quaglino's – Amazing venue for a bride and groom to make an entrance, the venue works brilliantly as an exclusive hire but OMG – watch out coming down those iconic stairs & make it memorable for all the right reasons! Seating up to 278 or 220 dinner dance, it's a stunningly versatile venue.
The Cinnamon Club – Amazing Michelin starred food in beautiful antique surrounds. The oak panelled Library Bar is perfect for the marriage ceremony, while the surrounding private rooms and main restaurant lend themselves to wedding breakfasts of varying sizes, and the stylish bar downstairs is ideal for a great after-party.
One Lombard Street – Often taken as an exclusive hire for up to 200 guests (seated) at weekends, this iconic city restaurant is a regular wedding venue for city romances taking the next step and making the ultimate commitment.
OXO2 – Described as a blank canvas, with massive windows overlooking the Thames, white walls and completely versatile, this makes a great venue for a modern wedding and reception. The west side seats up to 100 or the whole venue up to 200 using award-winning caterers Create Food and Party Design.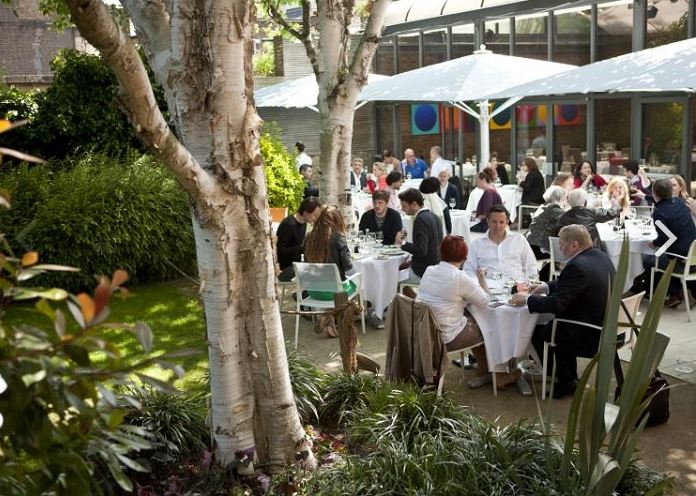 Clubs, Private Clubs and Members Clubs
Home House – With many, many different rooms to choose from, in a variety of styles, a favourite still remains the marquee in the courtyard as does the Eating Room and Front Parlour combo which can cater for up to 80 guests – although more guests can be accommodated in further rooms.
Devonshire Club – The City meets Mayfair in this super cool venue which caters for 180 guests for a wedding on the first and ground floors. Wedding packages here are done on a bespoke basis – and can be catered in house or by external caterers for specialist diets.
Mosimann's – A former Presbyterian church, this is a stunningly timeless venue with the ability to seat 50 in the penthouse Garrard room or smaller receptions of 30 in the Parmigiani Fleurier room. Canapé receptions in the balcony bar overlooking the main restaurant are a must!
A hat-trick of private club venues in Mayfair offer what we reckon are some of the Capital's best kept secret wedding venue options. No 4 Hamilton Place which caters for up to 300 guests is located next to the Ritz with a terrace overlooking Green Park, while the Grade 1 listed Six Park Place in St James's caters for up to 100, and the nearby but smaller Army & Navy Club overlooking St. James's Square Gardens seats up to 50. All have multiple rooms for hosting weddings and receptions.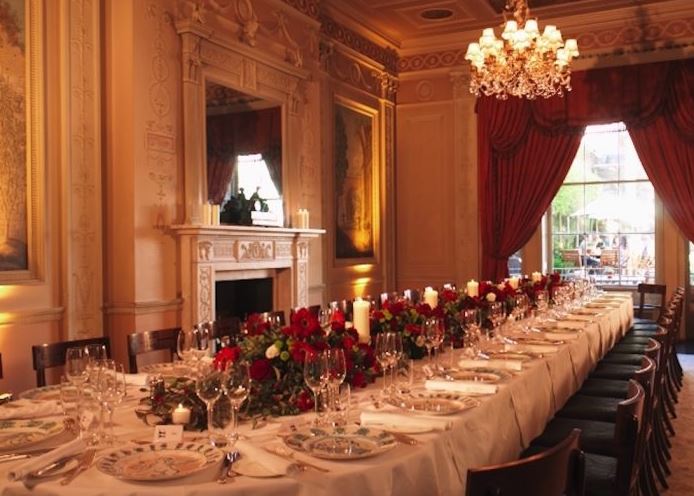 Hotels
Many hotels now have licenses for civil ceremonies. Three we love are…
M by Montcalm is the City's top tech hotel. With space for up to 100 in the Urban Coterie restaurant, it's a hidden gem of a city wedding venue – being part of the Montcalm hotels group means great bedrooms too with changeable in-room aromas, pillow menus and more!
One Whitehall Place in the Royal Horseguard's Hotel features five stunning rooms packed with character and original Victorian features. It has exceptional function space for up to 250 as a dinner dance.
Corinthia Hotel has space for up to 180 guests in its beautifully restored Victorian Grand Ballroom – dinner dances are also possible for up to 150.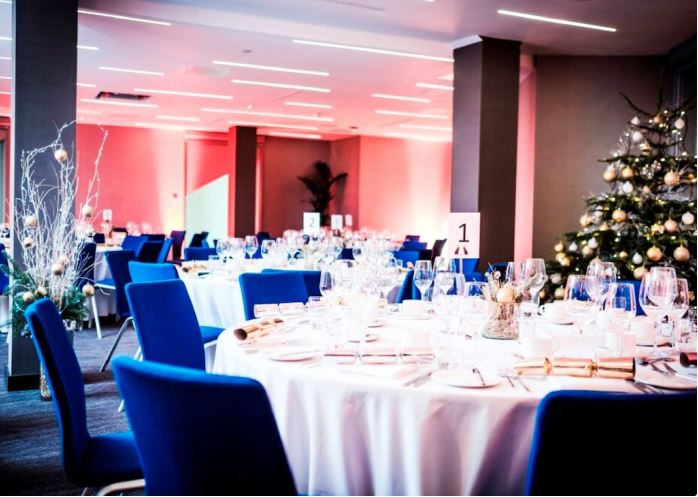 Alternative Venues
Lord's Cricket Ground – the rooms here will bowl you over (groan) – ok that's awfully passé but The Long Room for up to 200 guests overlooks the grounds and is as iconic as they come for cricket fans. Recent first-hand experience (by one of our team's mum!) described the food and staff as 'faultless'.
Fortnum & Mason – The very definition of refined elegance – the top floors provide different spaces perfect for weddings and receptions from the exquisite Drawing room to the main tea room which can cater for up to 220 guests as an exclusive hire.
Hippodrome Casino – for high rollers, the various event spaces in the Hippodrome can be used flexibly for up to 150 and Heliot restaurant, bar and lounge even has views of the casino on the floor below.
The Arber Garden – with five different private rooms available, the combination of the Reading and Dining rooms complete with its original stone doorway of the Fitzrovia Chapel, can host a wedding party of up to 60 guests.
Boats & Yachts
Finally, make waves by holding a wedding on one of London's stunning licensed boats on The River Thames – The RS Hispaniola and The Yacht both cater for these events hosting up to 170 and 200 guests respectively.