Jun 20, 2017
Discover Private Dining Rooms In London For 20 – 30 Guests
This is the most popular size of event that we book here at private dining rooms.co.uk, so we've put together our selection of great rooms that you might not have thought of before – best kept secrets if you will – and places that you might not have thought would have private spaces.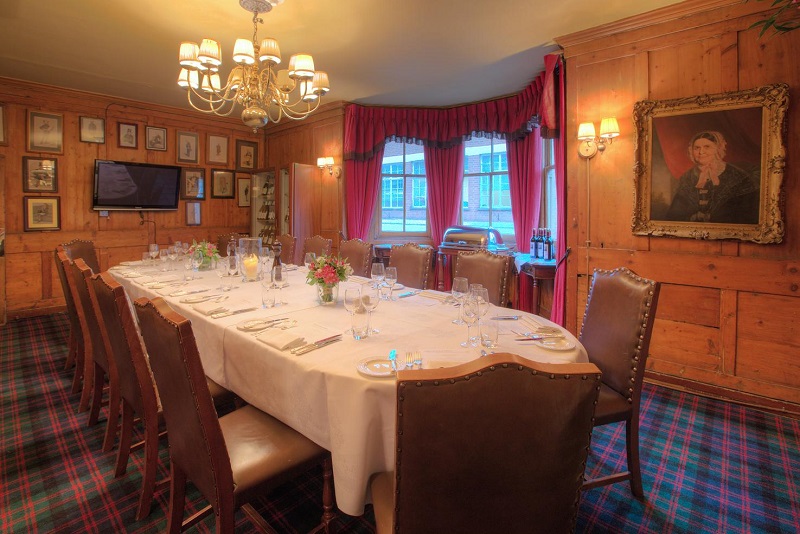 Iconic Restaurants with Private Rooms
It may be one of London's most iconic restaurants but to find a private room at The Guinea Grill comes as a surprise to many. The Boardroom seats up to 28 guests on three tables (22 on one oval). Specialising in dry aged, grass fed Scotch beef cooked on an open grill this is a truly special venue for carnivorous gourmets to indulge – whether at a dinner party or corporate dinner.
Similarly "SMITHS" of Smithfield is renowned as one of London's most impressive restaurants but it also has the Market and Skyline private dining rooms for 24 guests each (or 48 combined). Worth noting is that these rooms can be hired by the hour, making them ideal for daytime meetings, and they also link to the SOS Craft Market, Smiths' Craft Beer bar with over 60 varieties. Beef Breakdowns and Cocktail Making Classes are also available for private events.
Corrigan's restaurant in the heart of Mayfair also boasts one of London's most elegant board rooms. Think five star glamour from chandeliers and candelabras to polished wood and silver cutlery and you'll get the picture. The Lindsay Room seats up to 30 as three rounds or smaller groups on one large oval table.
New Private Rooms on the Block

One of the City's newest private members' clubs, just two minutes from Liverpool Street, The Devonshire Club has four private dining rooms which are available for non-members to hire. The largest of which, The Cabinet Room, seats 30 on four tables (20 on one table). With a modern and sleek décor, the rooms also have state-of-the-art IT and AV facilities.
Within a year of its opening in 2015, Bonham Restaurant, one of London's most famous auction houses, gained a Michelin star. The restaurant space can be hired exclusively for parties and private events of up to 24 guests and is regularly used for corporate lunches as well as celebratory family occasions. Tom Kemble's seasonal menus also include a 7 course Tasting Menu.
Best Kept Secrets
Often billed as the most romantic restaurant in London because of its twinkly main dining room, Clos Maggiore also has a less twinkly but equally elegantly refined private room for 23 on the first floor. This gorgeous wood panelled room with stacks of original features is ideal for pre and post theatre groups, as well as birthdays, leaving do's and parties with its delicious modern European cuisine and fabulous location just off Covent Garden Piazza.
Another top Mayfair secret is Mews of Mayfair, tucked away as it is behind New Bond Street. With seven different spaces all in different styles, the Chef's Private Dining Room on the second floor seats up to 28 in a stunningly light space covered in 'olde world' map wallpaper with views into the kitchen (can be obscured on request). Totally different in style is the Hummingbird private room in the Cartizze Bar across the Mews which can host 25 guests for a standing reception in its glamorous gold and black marble surrounds.
Rotunda in King's Place development behind King's Cross has a fabulous treat of a private room at the far end of the restaurant. With space for 30 guests, there's also access onto the sheltered canal-side terrace – ideal for pre-dinner drinks, networking, or after dinner mingling. With options for canapé receptions, bowl food sharing dishes and summer BBQs, there's plenty of flexibility at this venue.
Wild Cards – Private Rooms That Are A Little Bit Different
Acclaimed modern Indian chef Vivek Singh's main restaurant at The Cinnamon Club is well known for hosting business lunches and dinners but it's also boasts many private rooms for events. Among them, the (licensed) Library Bar is often used for smaller weddings or receptions as well as dinners for up to 24 on a square table or 30 on 3 long tables.
Situated on the lower level of the London Hilton on Park Lane Trader Vic's has always been a haven for corporate entertainment in the heart of Mayfair. Its lesser known Tiki Room is a Polynesian-themed private room within this anti-establishment establishment that seats up to 30 guests. Open for dinner only, it features an ever-evolving fusion menu of dishes from the Mediterranean, the Middle East, Asia, and Japan as well as over 200 signature cocktails – nice!
Explore our exciting range of Private Dining Rooms in London for 20 – 30 guests, today!