Oct 24, 2016
The Best Private Dining Rooms In The West End – Part 2
It's hardly surprising that in London there are some seriously funky spaces in which to have fun. To carry on with our tour of the West End's best private dining rooms, here are the rooms we think have the most 'wow' factor.
Take Icebar – for instance – where guests can have receptions in the private ice bar which is, as the name suggests, made entirely of ice. But if that leaves you cold, why not try one of their two other (much warmer rooms) downstairs which come complete with disco and bar options and seat up to 110 combined or 80 and 30 separately.
There's also a myriad of differently styled rooms available at private members' club Home House (top tip: you don't have to be a member to hire their private rooms) and there's everything from beautifully stylish and elegant Georgian reception rooms, to a garden marquee and cells that have been decked out for karaoke parties. Number 21 can be hired for exclusive use for up to 300 or by floor for up to 150 and includes the unmissable silver statement bar by late, great, award-winning designer Zaha Hadid. We recommend a venue tour.
If bigger is better in your book, why not go for Heliot restaurant in the heart of the Hippodrome casino. The two smallest private rooms for 24 & 36 enable quieter dinners, while the Heliot restaurant can be hired exclusively for up to 170 (or top tier for 90) with views of the casino. The Matcham Room Theatre behind the stage area is perfect for larger parties, launches and celebrations– it's worth noting this space can be set up theatre style with a stage and full sound on request.
Equally impressive in size is the penthouse Aqua with its double offer of Japanese at Kyoto and Spanish at Nueva. Nueva Casita and its balcony area is our top tip for a private reception with dinner, while the main bar is perfect for pre or post drinks to really soak up the glitz and glamour of London's rooftop elite.
Just by St Christopher's Place, Cocochan's uber-central West End basement is the perfect bar to hang out in after work, celebrate or just have a party. With a fusion of Chinese, Japanese, Korean and Thai dishes, the purple basement lounge has DJ decks and seats 30 but can take up to 50 for finger food and drinks. Upstairs the main restaurant area can also be sectioned off for semi private dining.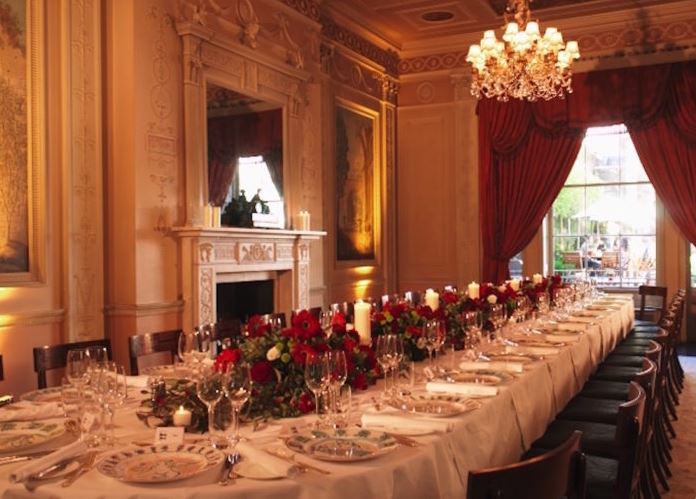 Brasserie Chic
The West End also has a clutch of new generation, upmarket brasseries – forget old horrors such as La Tasca and think renaissance– doing classics really well in beautifully crafted surrounds. Aubaine's a leader on this front, with its bakery roots and French influences, its Heddon St site is in constant demand and the private room downstairs (for 27) is frequently used by local businesses for breakfasts, brunch and lunch meetings as well as its semi-private terrace dining room (18) for after-hours socialising and dining.
Piccadilly Circus offers Brasserie Zedel's restaurant, bar and salon. Crazy Coqs cabaret salon is a striking 1930s styled private room with a small stage for up to 40 seated, while the Bar Americain can host up to 80 for standing events. The lighting here is notably excellent – giving the impression that daylight is flooding in from outside, despite its basement location.
The Wolseley's best kept secret is its private room for 14, with the ambience of the inside of an art deco Fabergé egg and views into the restaurant and the street outside, it's a great place to see without being seen, as well as enjoy this fabulous all day brasserie.
Now Spaghetti House may have been around for a while but it's recent refurbishment means this family run classic Italian brasserie is well worth another look. In Duke Street try the chef's table or lower ground floor private room – for up to 30, where carefully sourced ingredients, classic dishes and a new passion all combine to make this a great venue to host relaxed events – be that receptions, lunches or dinners – in the casual, ebullient way that only Italians can.