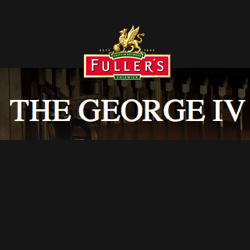 The George IV
£35+ per person
I'd like to book this venue:
Close
Thank you for your interest in The George IV!
Here are your booking requirements:
For more information regarding availability and prices please call
020 7205 7587
Alternatively, simply fill in your name, email address and phone number in the form below and we will call you back to confirm.
With its own private bar and space for up to 200 guests standing/buffet, 120 for sit down dinner, the Boston Room at The George IV is one of Chiswick's finest function venues.
It's the ideal place for wedding receptions and private parties, and with a late license until 1am, your special celebrations can go on right until the early hours.
The Boston Room suits daytime do's and corporate entertaining too though – available Sunday to Thursday throughout the year, and also Friday and Saturday during July and August.
The George IV was acquired by FST in 1826, probably the year the name was changed to George IV. The pub was rebuilt in 1931, the art deco era, but the site had been licensed by at least 1771 as Lord Boston Arms renamed the Boston Arms in 1790.
Lord Boston's son, the second Baron, was a Lord of the Bedchamber to both George III and George IV. A lord of the bedchamber, previously known as a Gentleman of the Bedchamber was a courtier in the Royal Household of the King of the UK and the Prince of Wales. A Lord of the Bedchamber's duties consisted of assisting the King with his dressing, waiting on him when he ate in private, guarding access to him in his bedchamber and closet and prviding companionship.
Then Boston Arms began selling stagecoach tickets in the 19th century and in 1838 a George Cloud was running an omnibus service to the City from the pub.
In 2002 a storeroom was converted into a function room and later became the Headliners comedy club with live comedy shows at weekends and other evetns during the week. It is now The Boston Room, a homage to the building's colourful history and dedicated to all the Lords of the bedchamber.
The George IV has been listed in these categories
Chiswick