Vincent Menager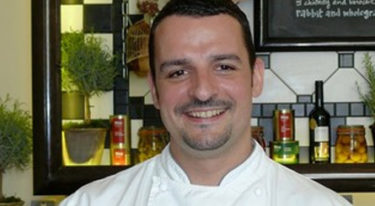 How long have you been at the restaurant?
I did open this restaurant last year in Ocotber 2011.
Which was the first restaurant you worked in?
The first restaurant I worked in France was the Pre Catelan a 3 michelin star restaurant with Frederic Anton.
What was the last London restaurant you went to, apart from your own?
The last restaurant I went to in London is Artisanal, I love the simplicity of the food, the price and service, and they know me very well, as I go quite often!
What or who has been the biggest influence on the way you cook and why?
I have different influences in the way I cook, first it is the people I worked with, my Chefs and inspirations but also my travels, I like to try ethnic food from the country I visit or live in. I like to discover new flavours and techniques. And of course where I am and the time also, for this restaurant I travelled around the UK to find suppliers, products and recipes as I wanted to promote traditional food from the UK and France.
What is your personal signature dish?
One of my signature dish is the Coq au vin, which is a stew of chicken in red wine sauce, very good for you when it's cold and gloomy outside…
Which other chef's) do you most admire?
I have a couple of Chef that admire, Paul Bocuse and Albert Roux for the way they opened our business to the world and brought it to where it stands today. Eric Ripert from the Bernardin in NYC, because of the way he cooks, the detail and the concept beyond what he does. Morimoto, Japanese chef that find his way to express his Japanese root and sushi making techniques in a very modern and creative ways. Joel Robuchon, Gordon Ramsey, Daniel Boulud and Alain Ducasse, because they find the recipe to make Michelin star restaurant and the way they manage so many successful restaurant.
What's the best part of your job?
The best part of my job is to transform raw product into something good to eat and appetizing, but also training my team to make them understand it is more than just the techniques but the respect and the knowledge of food.
And the worst?
The inventory at the end of the month!
What would your last meal be?
A roasted leg of lamb with garlic and rosemary and flageolet beans like my grandmother used to cook for the Sunday family meal.
Do you have a chef's shortcut that you can share with us?
To make poached eggs, put some vinegar in your simmering water, but no salt and only 8 to10cm deep of water (salt has the opposite effect of the vinegar) and your eggs will have a great shape. To cook pasta, taste your water, it should be a little bit on the over salted side and don't put oil in it, it doesn't make the pasta not stick to each other, just mix them in the water till the water boils again. When you cook a sauce dish like coq au vin, beef stew or any other ingredient cooked in sauce, cook it a day or 2 ahead. Flavours and texture will always be better reheated. If you buy an avocado a bit too hard, keep it with a banana in a paper bag, it should be perfect tomorrow!