Raymond Blanc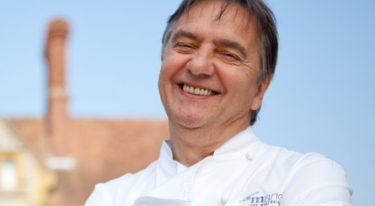 How long have you been at the restaurant?
I first opened Le Manoir aux Quat'Saisons in 1984. My team and I have retained 2 Michelin stars ever since.
Which was the first restaurant you worked in?
I was never formally trained but began my career in England in 1972 as a waiter before taking over the Rose Revived Restaurant in Oxfordshire when the chef became ill, and I have never looked back. I opened my restaurant at the age of 28, 'Les Quat' Saisons' in Oxford, and within just one year the restaurant had reached Michelin Star status.
What was the last London restaurant you went to, apart from your own?
Dabbous, 39 Whitfield Street, London. I know the young chef very well: Oli Dabbous worked at Le Manoir for four years; that is where he learned his craft. He then worked with another protégé of mine, the fabulous Agi Sverisson at his restaurant Texture, which gained a well deserved star Michelin last year. When Oli first came to work with us at Le Manoir, Gary and I were quick to acknowledge that this young man had certain qualities which set him apart…… brilliant organisation, a cool head, not buckling under pressure, complete love of food, incessant questioning, always eager to learn to minute detail, hardworking and a wonderful work ethic. What a joy it was to work with such a young man and to see him now in his own restaurant. The restaurant is in two parts: downstairs is a large room with sofas and a bar. The cocktails are very good; I tasted them the night before at the pre-opening party and there was a buzzing ambience. Oli is a man of conviction: he knows himself well; the food that he wants to give his guests, how it is given and in what kind of environment. The design is a true statement of intent – bold, bare – some even might say raw – every copper pipe is naked, every wall distressed, bare light bulbs and the floor is roughened up. The cocktail bar is a great addition, it will bring great business in the evenings; with it young executives who enjoy a good cocktail and a great meal to follow.
What or who has been the biggest influence on the way you cook and why?
Maman Blanc – My earliest learning in the kitchen was as chef's apprentice to Maman Blanc. I worked as a minion, with the tasks of peeling and preparing vegetables, plucking chickens and so on, all ready to give to my mother for her to perform the simple creative act of cooking. These were truly my formative years within food, because I am totally self-taught and have never worked under a chef in my life. I learned the seasons of the garden and the nobility of produce; I connected with the woods and fields, which were full of delightful wild produce, and partook in the feast of cooking and sharing around the table.
This training formed the basis of the simple food philosophy which permeates Le Manoir aux Quat' Saisons: Seasonality, Simplicity, Fresh Produce, Cooking and Giving.
What is your personal signature dish?
It depends on the season. for example Asperge, œuf de poule, purée de cresson, jambon de jabugo. White asparagus, fried hen's egg, watercress purée and Jabugo ham.
Which other chef's do you most admire?
Maman Blanc was always my inspiration. My mother was fantastic, using her simple creative skills and she was my cradle of learning in a family of five.  We were quite poor but ate like kings. And my father being a gardener taught me all about the soil and plants while I went hunting in the local forests for seasonal produce. Michel Roux is someone who has truly promoted fine dining to Britain; whilst Heston Blumenthal is an intelligent, kind young man working on molecular culinary creations from which our industry will benefit more than from certain other mad dogs!
What's the best part of your job?
Watching young people learn their craft well and become experts in their own right.
And the worst?
Not having enough hours in the day!