James Moyle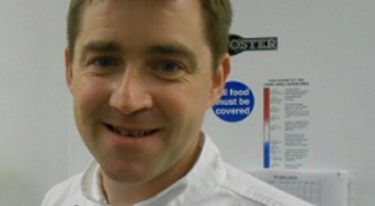 How long have you been at the restaurant?
One and a half years.
Which was the first restaurant you worked in?
The Savoy Hotel in London.
What was the last London restaurant you went to, apart from your own?
L'Escargot Bleu restaurant in Edinburgh.
What or who has been the biggest influence on the way you cook and why?
Working with chefs who care about food from its source all the way through to how it is cooked and served.
What is your personal signature dish?
Roast loin of venison with a celeriac and apple gratin, braised red cabbage and juniper sauce.
Which other chef(s) do you most admire?
There is not one chef that I admire more than the others, I think any chef who loves food and is creatively producing tasty food has something to admire.
What's the best part of your job?
Being able to make great food and learning something every day.
And the worst?
Washing up!
What would your last meal be?
Raspberry and almond pithivier with honey comb ice cream.
Do you have a chef's shortcut that you can share with us?
When cooking a lemon tart or custard tart, after removing from the oven, place a piece of cling film over the top of the mix just to the upper edges of the tart case, to stop it from cracking when it cools.