David Wilkinson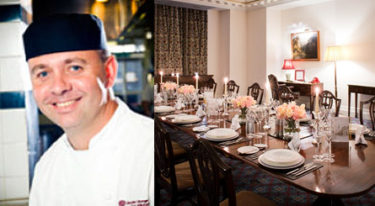 How long have you been at the restaurant?
A little over 10 years.
Which was the first restaurant you worked in?
The River Restaurant at the Savoy back in the mid eighties.
What was the last London restaurant you went to, apart from your own?
Galvin at Windows, The Park Lane Hilton.
Which London restaurant is your favorite and why?
Cho-San in Putney. I used to live in Putney and this was one of my favorite haunts. This authentic, family run Japanese restaurant serves fantastic, sensibly priced food in an intimate and cozy atmosphere.
What or who has been the biggest influence on the way you cook and why?
It's so hard to say but I think you are most influenced in your formative years, so for this reason I would say the Savoy. The operation in those days was massive, harsh and unforgiving and you had to learn at an accelerated rate out of necessity, but it equipped you to be able to cope with just about anything in the future.
What is your personal signature dish?
I have never really understood the need to have one, so I don't!
Which other chef(s) do you most admire?
Thomas Keller, Raymond Blanc, Rick Stein.
What's the best part of your job?
Working with a fantastic team and the autonomy that comes with an independent business.
And the worst?
The weight of administration.
What would your last meal be?
On a beach at sunset eating grilled fish that had just been plucked from the sea, washed down with something cold and bubbly.
Do you have a chef's shortcut that you can share with us?
It sounds obvious but making time to plan and organize will save you so much time in the long run. Dealing with the unexpected in the middle of a meal can cause a disaster.