Oct 21, 2019
Private Dining Rooms in London's Mediterranean & European Restaurants
The ever-enduring popularity of modern European and Mediterranean is undisputed and in large part due to its accessibility and versatility – including its ability to cater for special dietary requirements. London offers some of the most incredible and iconic venues serving this type of cuisine, so whether you're looking to book a discrete dinner or a huge party, these top picks will definitely keep your guests happy and well fed.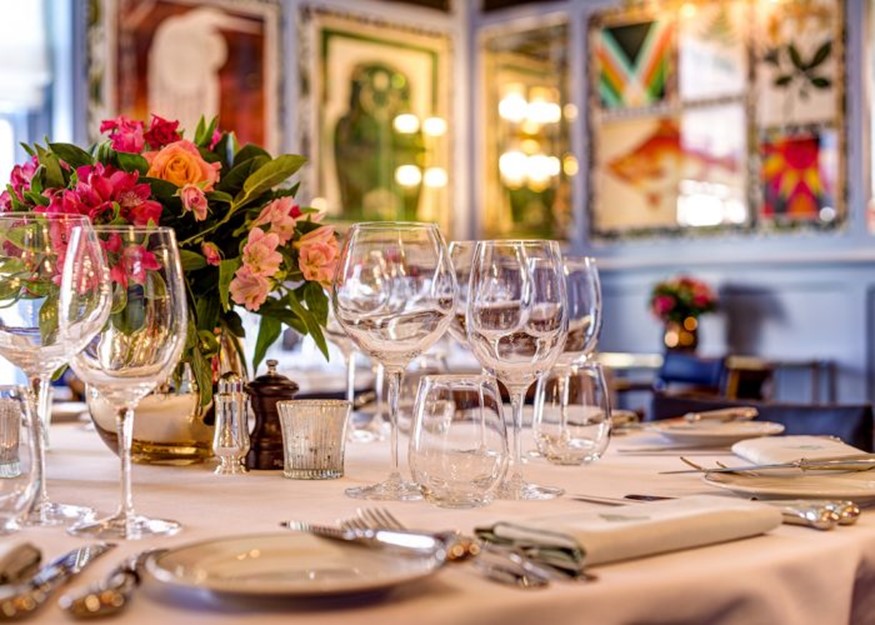 The Modern Pantry
Anna Hansen's Clerkenwell offer is little short of legendary. With the Foundry Room for just 12 and the North and South private rooms available for individual hire or together for up to 70 guests, this all-day brasserie's menus start at around £50 per person and include their fabulous home-made breads and complementary still and sparkling water.
The Wolseley
Probably one of the most famous modern European brasseries in the capital taking on the Grand Café style, The Wolseley's private room is like dining inside a Faberge egg. A discrete space for just 14, it's found up an easily miss-able staircase and has views over the restaurant and street outside. Lunch and dinner menus cost around £50 per person although the room is also available for breakfast meetings and afternoon tea events.
Margaux
With a private dining room for 18 and a basement that can host up to 32 guests, this South Kensington stalwart is as stylish as the surrounding area, with a modern industrial design and offers fabulous European dishes as well as a stunning wine list with over 100 bins. Private dining menus cost around £55 per person.
Bluebird
This iconic restaurant from Sir Terence Conran on The Kings Road pretty much defined the concept of Modern European dining. It offers four private dining rooms for parties from 30 to 76 guests as well as the option of exclusive hire for up to 200 guests (seated or 500 for a standing reception). With menus starting at around £55 per person and The Bluebird Room boasting its own private bar, they're adept at hosting gatherings away from the public eye as well as glamorous public parties.
Mortons
This famous Mayfair gem from the multi-Michelin-starred MARC restaurant group offers its Club Room as a private dining space for 42 seated (80 standing) and its restaurant for up to 80 guests as an exclusive hire. It also has a nightclub for up to 150 – enabling guests to enjoy a boogie in the safety of its privacy. Menus cost around £80 per person or exclusive hire of the entire club requires a minimum spend of £15,000.
The Greenhouse
Another from the prestigious MARC group, you'd be forgiven for walking past this well kept secret – mistaking its stunning entrance for a private garden. It offers an intimate semi-private dining room for just 12 that's screened off from the main restaurant, in opulent surrounds and with its exceptional two Michelin starred menus, it costs around £100 per person.
Riding House Café
This super-popular all-day brasserie and bar has two private dining options – The Stables for a select 16 and the Dining Room, which can be hired as a semi-private space for up to 55 guests. There are a range of modern European menu styles – from three courses to group feasting options which cost from around £55 per person.
St Pancras Brasserie and Champagne bar
This stunning and incredibly well-located venue within the station has a range of private dining rooms – from intimate party rooms of 12 in the Private Dining or Tasting Rooms, to 20 in the Glass room, 35 in the semi-private Kitchen Bar area and from 50-400 in various spaces of the Champagne Bar. Menus start at around £45 per person.
Heddon Street Kitchen
This popular choice is from the Gordon Ramsay stable and offers a multitude of private dining options in the heart of Regent Street's foodie area with space for parties between 12 and 50 guests. Menus cost around £40 per person and the first floor can be hired for up to 80 guests for seated events or 120 for standing receptions.
1 Lombard Street
With two private rooms able to host from 40 – 55 guests and the option of exclusive hire for up to 200 guests for a seated event (400 for standing receptions), this iconic City establishment next to Bank station is used as often for corporate events as wedding receptions and parties. Available for breakfast lunch and dinner, menus start at a very accessible £40 per person.
The Ivy
We can't not mention The Ivy! As the godfather of modern European food, it's gone from one venue to many, but all with the same simple, approachable ethos and delicious menus. If your budget doesn't stretch to the original Ivy, why not try one of the Cafes, Brasseries or the Market Grill – depending on the venue, menus range from £45 – £70 per person.