Oct 24, 2016
Central London Terraces and Roof Gardens for Alfresco Private Dining
Here at privatediningrooms.co.uk we are a glass half full type of team. So much so that we reckon we've had all the bad weather and we're now going to bask in beautiful sunshine for the rest of the summer.
So to keep our spirits up and the hope alive, here's our list of all the fabulous places and spaces in Central London with outside terraces and al fresco options that we want to dine and drink in with friends, colleagues and loved ones.
Al Fresco Up High
We do love a rooftop terrace and Pont Street has one which can be hired for up to 15 guests (30 standing) and it's even available throughout the year because of its handy retractable roof.
The Elysee also boasts a retractable roof over a 700 sq ft heated terrace– available to hire on its own or as part of a first floor exclusive hire. With a trading license till 3.3am, it really is a great late night party venue for up to 60 guests or more for a first floor exclusive.
The beautiful Edwardian No.4 Hamilton Place features the Argyll Room and roof terrace over-looking Hyde Park for up to 120 guests (200 standing) and BBQs can be arranged for summer parties
Over in South Kensington it doesn't get more stylish and surreal than Babylon restaurant at the Roof Gardens where the private room for up to 12 has its own terrace overlooking the gardens – complete with resident flamingos.
A great 360 view of London's skyline can be found at Hilton's Tower Hill Doubletree rooftop bar, SkyLounge, which can be hired for parties, as well as the Valhalla Vodka Bar.
Over at the Grade II listed 30 Euston Square, Searcy's catering covers the penthouse State Rooms and Rooftop Terrace for up to 160 guests, as well as providing them with easy access home – being just a stone's throw from Euston and King's Cross.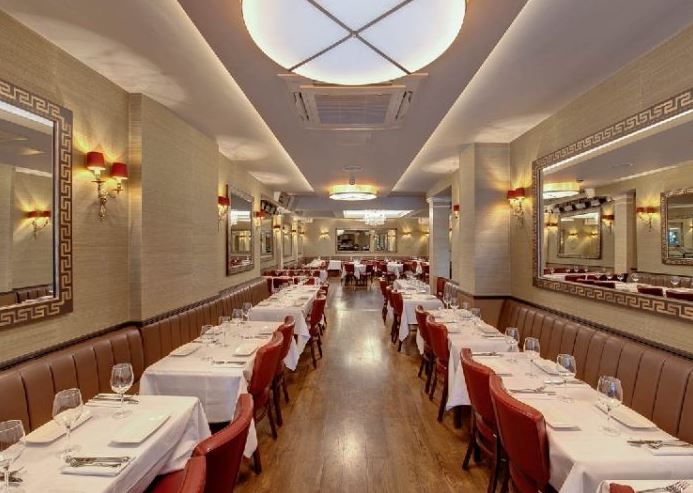 Terrace-firma
Round the corner and back down to earth, Rotunda in the King's Place development is right on the canal with a terrace linked to the private room for up to 18. It's a delightful and handy spot for dinner parties, networking and intimate wedding receptions.
Also at ground level, is Wright Brothers' Market Terrace at their Spitalfields' site. With a heated outdoor terrace that is fully covered, it can seat 38 or up to 50 guests for a canapé reception. Their gin cocktails come highly recommended, especially when paired the restaurant's fabulous British and French oysters.
Home House offers its courtyard garden (complete with heated marquee from October to March) all year round for up to 60 guests. Whether you're a member or not, it's perfect for wedding receptions and partying and there are plenty of other private rooms also available for extra entertainment and chill out space.
Over in East London you can't beat Cinnamon Kitchen with its outdoor terrace and fabulous iconic London views of landmarks like the Gherkin. Choose from finger nibbles to platters or street food, it's proof that variety is the spice of life – especially when washed down with some of their signature cocktails.
We also love the Garden Room at the Goring hotel and the penthouse at The Westbury Hotel in Mayfair which boats a balcony for 80 people standing, served by their Tsukiji Sushi restaurant and cocktails from The Polo Bar.
And finally, three more of the best of the rest….
For people watching – Manicomo in Chelsea overlooking Duke of York Square with its private conservatory for up to 60 guests and outdoor heated patio the glass walls and clear ceiling provide an al fresco feel before you even take a sniff of fresh air.
A fabulously central discovery – Jamie's Italian in Piccadilly has a stunning al fresco courtyard for up to 60 guests, right in the heart of the capital.
Newby Dalloway Terrace in the Bloomsbury hotel has a fabulous garden terrace that open for breakfast, lunch, afternoon tea and dinner and heated in winter garden.