Jun 2, 2015
The best Al Fresco Rooms and Terraces for the summer
Despite a few days of what can only be described as wintry spells, sunny spring days and long summer evenings are definitely on their way and with that brings our desire for a Mediterranean lifestyle – mainly in the form of dining outside – or al fresco – as we like to call it to give it a more romantic feel.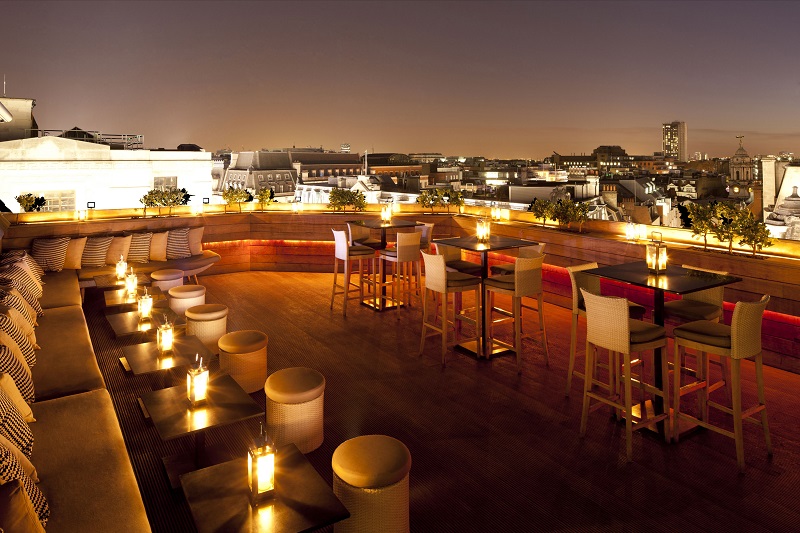 Of course it's also the perfect time for weddings, not too hot so the bride swelters, but with a reasonable chance of a beautiful day with sunshine and blue skies – rather than raindrops and blue brides!
So where are the best places for dining al fresco in town? Depending on what type of event you are looking for – somewhere sunny to have relaxed after work drinks or birthday celebrations or even wedding receptions – check out our pick of fantastic options below. There's something for every occasion.
Large Parties and Wedding Receptions
Restaurants with stunning spaces for large parties range wildly in style, from the legendary Babylon Restaurant atop Kensington's decadent Roof Gardens. The main gardens come complete with flamingos and water features, while the other side of the penthouse location at Babylon has its own balcony and exquisite views over London as well as a lawn with giant chess board.
Speaking of views, the uber-cool Aqua has a semi-private dining area and large roof terrace for up to 70 that overlooks Oxford Street and is guaranteed to impress guests. Just down the road, Greek-themed Elysee has a fantastic terrace for up to 120 standing (60 seated) and can be hired alone or as part of the upper floor rooms for wedding receptions or larger parties. With heating and cover, it's fully prepared for all types of English summer weather.
Roof Terraces
There's nothing like quaffing a glass of bubbly at a reception on a sunny terrace. Mosimann's Parmigiani Fleurier Room is perfect for parties of up to 30 guests with a small urban roof terrace ideal for receptions or post dinner breath of fresh air. In the City, Coq d'Argent has a stunning covered and heated bar terrace for up to 100 guests (standing) as does Pont Street's smaller rooftop terrace in Belgravia with a retractable roof for up to 30 guests standing(12 seated).
Wedding Gardens
In central London, Home House's private courtyard garden is spectacular as a wedding venue – with or without marquee – while over in Islington, the family run Fredericks is a firm favourite for wedding receptions, barmitzvahs and other family celebrations, with a stunning conservatory leading onto a beautifully manicured urban garden. West London's The Petersham and nearby Petersham Nurseries are also top venues – the former with spectacular views over Richmond, the latter a hidden gem reminiscent of Narnia that grows much of its own produce.
Riverside Al Fresco
For those wanting the best of both worlds – riverside views and al fresco dining, we can recommend three top venues. Part of King's Place regeneration Rotunda –has space for outdoor events and private pre-drink receptions by Regent's canal – this summer their party packages include the most enticing outside gin bar, pop-up bbq, seafood bar and even hog roasts. In the backwaters of Notting Hill, Dock Kitchen's roof terrace also benefits from the canal running past, while The Gun in Canary Wharf boasts a Riverside Terrace for up to 110 that is perfect for after work parties and celebrations.
Best of the Rest
Other hidden gems worth checking out are Inn the Park right in the middle of St James's Park, the stunning conservatory with walled garden at Manicomio, Bumpkin's Secret Garden and the Princess Victoria in Shepherd's Bush for anyone wanting to indulge in a cheeky Cohiba on their cigar terrace.